Disposition - 84 Pumpherston Road, Uphall
code: 143102
File type:
BP - Other property-related documents
Description
Disposition by The Pumpherston Oil Company Limited in favour of John Toal and Mrs. Mary Toal. Subjects: 84 Pumpherston Road, Uphall, West Lothian. Dated 1974.
Details the sale of No. 84 Pumpherston Road by The Pumpherston Oil Company Limited to John and Mary Toal for the sum of £250.
Attached is a black and white plan of the property highlighted in black. Scale of plan is cropped at bottom of page.
Included are two Notice of Redemption receipts from John Toal to Young's Paraffin Light and Mineral Oil Company Limited, dated 1976.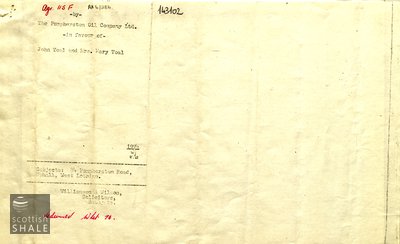 VIEW FILE