David Espie
Date of birth:
17/11/1877
Date of death:
22/08/1953
Home address(es):
124 Greendykes Road, Broxburn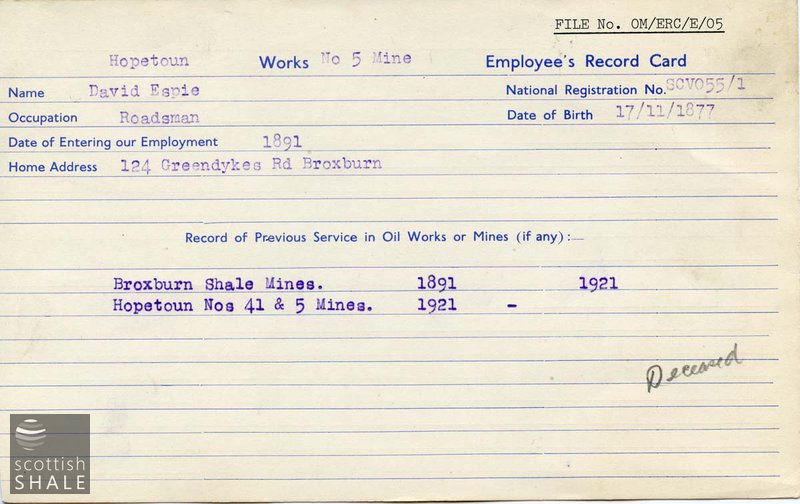 See full record, LVSAV2010.139.103
Newspaper References
FAREWELL TO EMIGRANTS - On Friday evening there was a big turnout in the Old Town Hall, on the occasion of the departure for West Virginia, U.S.A., of Mr David Espie and his son John, of 101 Greendykes Road. A very happy social meeting and dance was held. On behalf of friends Mr Willie Gordon, Greendykes Road, presented Mr Espie with a pocketbook, and Mr Espie, jun., with a silk scarf. A dance was much enjoyed. Webster's band discoursed the music. The M.C. was Mr Donald Walker. The evening was arranged by Mrs Jim Kelly and Mrs Louden. The emigrants sail on Saturday on the "Transylvania." They go out to work in the coal mines, where Mr Jim Kelly, formerly of Greendykes Road, has been for some time.
Linlithgowshire Gazette, 14 December 1928
DEATHS
ESPIE - At Port Perry, Canada, on 22nd August, 1953, David Espie, in his 76th year, dearly beloved husband of Helen McConnell (late of Broxburn).
West Lothian Courier, 4 September 1953