Ebenezer Waugh Fernie (1815-1869)
Ebenezer Fernie was an accomplished and well-connected entrepreneur who established the substantial Saltney refinery and associated oil works in North Wales, and mounted the most significant legal challenge to the validity of James Young's patent. Although losing the "Great Paraffin Case" of 1864, Fernie had already set up oil operations in Scotland that might have challenged Young's dominance of the Scottish oil industry if ambitions had not been cut short by Fernie's early death.
Oil industry interests
Other interests
Glessen Manganese Works, Hesse Darmstadt
Although born in England, Ebenezer Waugh Fernie was descended from an old Scottish family. "Scottish Surnames" by James Paterson, published in 1864, states:
"Ebenezer Fernie (now deceased), born 5th October 1782, at Stamford Hill, a magistrate of the county, and Deputy-Lieutenant. He married Mary, daughter of John Waugh, of Katesgrove, Berkshire, on the father's side, a descendant of the Waughs of Liftingstain, Selkirk ; on the mothers, of the Witheringtons of Northumberland. The eldest son of this union is Ebenezer Waugh Fernie, of Highfield, Berkhampstead, Hertfordshire. He married Margaret Ellis, daughter of James Dunlop, of Glasgow, a descendant, on the mother's side, of Robert the Bruce, through his great-granddaughter, Mary Stewart Edmonstone. They have two sons and a daughter."
His father, also Ebenezer, was listed as a director of the Hayitian Company for Mining, and the Peruvian Trading and Mining Company in 1825, and by 1851 was Managing Director of the British Commercial Life Insurance Company.
His wife Margaret came from the Dunlop family of Glasgow ironmasters, and was niece of John Tennant of St. Rollox chemical works, one the Scotland's wealthiest and most influential industrialists.
Ebenezer Fernie developed substantial interests in the mining and trading of manganese, an important ingredient in the production of some specialist irons and steels. During the 1840's he operated manganese mines in Tavistock, Devon in partnership with John Tennant, and later traded manganese from offices in London and secured interests in manganese works in Germany. It is apparent that he had business interests and investments in many other industries.
Giving evidence at the great paraffin case of 1864, Fernie stated:
"I have been a manganese miner all my life. I was winding up two railways in America immediately before entering upon this oil-making business"
At that time a substantial coal-oil industry existed in some USA, operating with little reference to Young's patent for producing oil from cannel coal. It seems likely that experience gained in the USA encouraged Fernie to establish works producing oil from the recently discovered oil-rich cannel coals of North Wales. Various surreptitious methods were employed to learn everything possible about Young's process, and experimental retorts were erected in the grounds of Fernie's Hertfordshire home. When Young and his partners challenged the infringement of their patent, Fernie and his partners "applied for a licence upon our own terms, through a solicitor." This confrontation was not resolved until the the Great Paraffin Case, a national cause celebre lasting 34 days which ultimately found in Young's favour.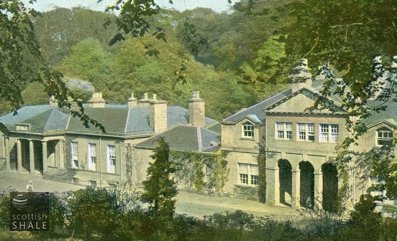 While this judgement cost Fernie dearly, he and his partners then launched their North Wales coal oil business as a public company, The Flintshire Oil & Cannel Co. Ltd., and awaited the imminent expiry of Young's patent.
Even before the start of the Great Paraffin Case,. Fernie had turned his attention to developing an oil business in Scotland based on oil shales that fell outside the scope of Young's patent. He bought up the works of the failed Broxburn Shale Oil Co. Ltd, and substantially developed them. A new oil works was also established at Tarbrax, and Fernie and his family moved to Almondell House, close to his Broxburn operations.
Limited progress was made with his Scottish oil businesses, probably as a consequence of the crash in oil prices, or perhaps reflecting his failing health. He died at Almondell on 29th May 1869, aged 54. Court proceedings over the disposal of his interests in German manganese works showed that despite losses in the oil industry he had remained a very wealthy man.
His daughter Katherine married Logan Raeburn, younger brother of John Peter Raeburn, owner of the Grange Oil Works, and when later widowed, married Frederick Bruce, son of the 8th Earl of Elgin.
Above left: Amondell House, Broxburn.
Newspaper references
Births, Deaths & Marriages

Married, at the house of her uncle, John Tennant, Esq. of St Rollox, the 4th current, E. W. Fernie, Esq., of Tavistock, Devonshire, Margaret Ellis, only daughter of late James Dunlop, Esq. of Glasgow.

The Fife Herald 20th June 1844

.......

Births: At Abbey Bridge, Tavistock, on the 12th instant, Mrs. E. W. Fernie; a daughter.

The Glasgow Herald 16th May 1845

.......

On Thursday, last week, Mrs. Margaret Dunlop, lady formerly residing Glasgow, committed suicide at the residence of her son-in-law, E. W. Fernie, Esq., in this town, by cutting her throat with razor. She had not been in bed for the night, and had written several letters. About 4 o'clock in the morning she went into the nursery and spoke to the nurse in her usual manner, but about seven o'clock she was discovered in the closet quite dead. The deceased was in her 48th year. A Coroner's Inquest was held on the body, and a verdict of temporary insanity returned.

The Exeter and Plymouth Gazette, 26th June 1847

.......

Daring Housebreaking and Theft of Silver Plate.

About one o'clock on the morning of Wednesday the 7th instant, Langside House, presently occupied by E. W. Fernie, Esq.,was broken into by wrenching out a stanchion and forcing open a window in the sunk flat. The family were not all in bed, and the noise made by the depredators was heard and a strong smell felt of brimstone from the matches used by them; but suspicion was not excited, and the thieves were allowed to effect an entrance into the butler's room or pantry, from whence they carried off the following, among other articles of silver plate, a silver tea set, silver bread basket, silver coffee pot, silver forks; spoons, king's pattern, and marked E. W. F., &c.

The Procurator Fiscal of the district having got early information, proceeded to the spot, where the footprints of the thieves, one of the instruments used in forcing an entrance, and other evidence was obtained by him, and immediately communicated to Superintendent McKay, chief criminal officer in the Glasgow Establishment, who lent instant aid a for the detection of the thieves and recovery of the stolen plate. It is rather remarkable, that on the night of the 27th February last, the same room was feloniously entered, and a large quantity of silver plate carried off, of which no trace has ever been found. We trust, however, that the information now procured by the police, will lead to the detection of the parties guilty of the present daring offence, and recovery of the silver plate, which is of considerable value.

The Glasgow Herald, 9th June 1848

.......

Deaths – At Langside House on 3rd inst, Margarette Tennant, eldest daughter of E. W. Fernie. Esq.

The Glasgow Herald, 11th December 1848

.......

Births – on 3rd inst at Highfield, Berkhamstead, Herts, Mrs E.W. Fernie, of a son-in-law.

The Bucks Herald, 9th September 1854

.......

Marietta and Cincinnati Company—New Arrangements for the Foreclosure of First and Second Mortgages. —We learn upon what may be considered reliable authority, that Mr. Samuel. F. Hallett and Ex-President Millard Fillmore have been left out of the new arrangement that has been perfected in Europe, for the foreclosure of the first and second mortgages of this road........ 1. They appoint Ebenezer Waugh Fernie, Esq., of London, their agent and attorney in fact, to get possession of the Marietta and Cincinnati Railroad: amicably, if it can be done; if not, to obtain a foreclosure of the mortgages.

The Railroad Record Vol V11, 1859

.......

A Day with Earl Brownlow's Harriers.—On Tuesday last the meet for this merry little pack was a Highfield, Berkhampstead. The morning was ushered in with cold showers and stormy wind ; but the pack, as usual, true to their time, made their appearance under the direction of the veteran Rowl, the huntsman, strong muster of the good old and true were there, coupled with the addition of some novices, who were all invited to partake of the hospitality of E. W. Fernie, Esq., where all that epicure could desire was laid out for their service.

The Bucks Herald, 16th March 1861

.......

Births: On the 20th ult, at Berkhampstead, Mrs. E. W. Fernie, of a son.

The Herts Guardian, 1st March 1862

.......

The subscription list (regarding the marriage of the Prince of Wales).... including £10 from Mr. E.W. Fernie, (mineral oil works)

The Chester Chronicle, 28th February 1863

.......

Highfield House, Great Berhamstead. Mr. HOWARD, been favoured with instructions from E. W. Fernie, Esq., TO SELL BY AUCTION, Without reserve, on the Premises, on Monday, the 6th of JULY, 1863, At Eleven for Twelve o'Clock precisely, FURNITURE of Drawing Room, Dining room, 7 Bedrooms, Dressing Rooms, store, cellar, &c, &c.

The Bucks Herald, 27th June 1863

.......

AT POOLE HALL, near Nantwich, Cheshire, of about 50 tons of first-class HAY, three superior Cows, four porket pigs, handsome lady's hack, cart mare, two swans, number of geese, ducks, game and other fowl; one-horse cart, by Crosskill; horse, hay tedding machine, and other implements and effects; also, good toned pianoforte, Collard; on Monday, 3rd April, 1865, the property of Ebenezer Waugh Fernie, Esq., who is removing.—Sale one o'clock. N.B.—Catalogues may be obtained from the Auctioneer, MR. TUNNICLIFF

The Chester Chronicle, 1st April 1865

.......

Deaths – At Almondell House, Linlithgowshire on the 29th inst. Eben. Waugh Fernie, Esq. of Glessen Hesse-Darmstadt

The Glasgow Herald, 31st May 1869

---