George Abbott
Date of birth:
12/01/1884
Date of death:
03/09/1952
Home address(es):
Strathbrock Place, Broxburn,
70 Hawthorn Place, Uphall,

26 Cardross Crescent, Broxburn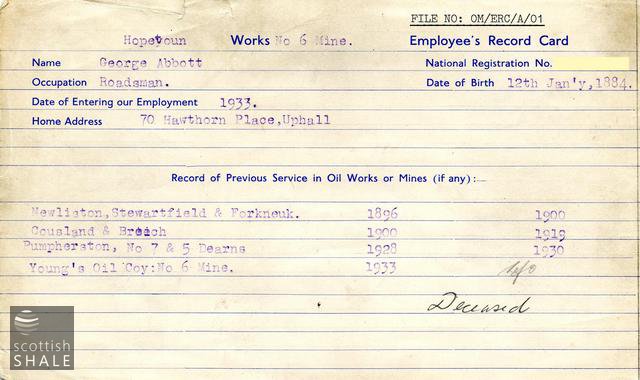 See full record, LVSAV2010.139.001
Newspaper References
MINE ACCIDENT – On Sunday morning a man named George Abbot, married, residing in Strathbrock Brae, was engaged in his work at the South Mine, belonging to the Broxburn Oil Company, when he met with an unfortunate accident.  Abbott was engaged in "holing" in the seam known as the grey shale when a quantity of the mineral fell on the top of him, with the result that he sustained a fracture of the right leg above the ankle while his left side was bruised. After being conveyed home in cab, Drs Scott and McGregor attended to Abbott's injuries.
West Lothian Courier, 30 January 1903
CAUGHT IN THE ACT – At Linlithgow Sheriff Court on Monday – before Hon. Sherriff-Sub J. G. B. Henderson – Alexander Kerr, quarryman, and George Abbott, miner, both in custody, pleaded guilty to having (1) in Nov., 1933, from the sawmill at Champfleurie House, Linlithgow, occupied by Francis Cannon Tudsbery, stolen 18 lbs. of brass, and (2) on November 25, 1934, from a field at Parkley Place Farm, Linlithgow, occupied by messrs Jas. Shanks, snr., and Jas. Shanks. jr., stolen 3 cwts. of carrots. Mr. Geo. S. MacKnight, procurator-fiscal, stated that the accused arrived at Parkley Place last Sunday with ten bags. A watch had been kept and accused were allowed to fill three bags when the watchers came out of hiding and pounced on the accused. On searching the residences of the two accused quantities of brass were found which led to the first charge being made, and was admitted by both accused. The latter said this was the first time they had been in trouble and they hoped it would be taken into consideration. Sheriff Henderson passed sentence of 14 days' imprisonment on each accused.
West Lothian Courier, 30 November 1934
GOLDEN WEDDING
A local couple, Mr and Mrs George Abbott, 26 Cardross Crescent, celebrate their golden wedding on Hogmanay. Married at Bridgend, Linlithgow, on December 31st, 1896, by the late Rev. Robert Smillie, Wester Pardovan Church, they took up residence at Port Buchan, Broxburn, and have resided in Broxburn all their married life. Mr Abbott was a shale miner but has been an invalid for a number of years. Mrs Abbott, however, still retains her activity and brought the golden wedding notice into our office herself. She was formally Miss Mary Hannah and has resided in Broxburn nearly all her life. There are three sons and one daughter of the marriage and nine grand-children and two great-grand-children. The happy event will be celebrated at a party in their son's house in Bridgend on Tuesday next.
West Lothian Courier, 27 December 1946
DEATHS
ABBOTT - At Hospital on 3rd September, 1952, George Abbott, aged 77 years, beloved husband of Mary Hannah, 26 Cardross Crescent, Broxburn. Funeral tomorrow (Saturday) to Uphall Cemetery. Friends desiring to attend please meet cortege at cemetery gates at 11.35 a.m.
West Lothian Courier, 5 September 1952