Sir William Fraser (1888-1970)
William Fraser's father (William Fraser Senior) and uncle (Archibald Fraser) were the main players in the formation of the Pumpherston Oil Company. He moved from the position of assistant managing director of the Company to that of managing director following his father's death in 1915.
Throughout the remainder of World War One he acted on behalf of the oil industry in relations with the government. For this work he was made a CBE in 1918. He played a prominent part in negotiations leading to the formation of Scottish Oils Ltd and was appointed as managing director of the new Company. In 1923, Fraser became a director of the Anglo Persian Oil Company, in 1928 deputy chairman and in 1941, chairman, a position he retained when Anglo-Persian became BP in 1954.
Following World War One, he continued to work in an advisory capacity to the government. In 1935 Fraser was appointed as Honorary Petroleum Advisor to the War Office and became a member of the Admiralty Contracts Advisory Committee from its inception in 1936. He was knighted in 1939 and was raised to the peerage as the 1st Baron Strathalmond in 1955.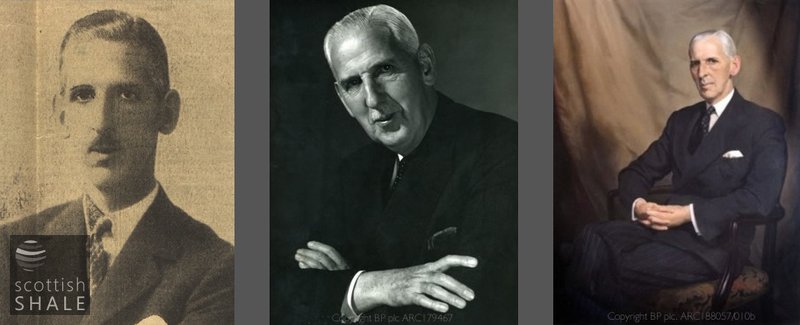 Tributes
At the first annual general meeting of the shareholders of Scottish Oils Ltd held on 24th June 1920, the Chairman of the Company, Sir Charles Greenway, made the following speech regarding William Fraser:

"I would like to pay a tribute to the very valuable services rendered by our able Managing Director, Mr William Fraser. Dr Young's name holds an honoured place in history as the "founder" of the great petroleum industry. Mr Fraser's name may, I think, very well be given a place in the scroll of fame as the "saviour" of that part of the industry represented by Scottish shale, for had it not been for his driving force, ability, and tact I am quite sure that the amalgamation of the Scottish shale companies would never have been effected, and that the industry would sooner or later have expired – not, mark you, from lack of intrinsic merit, but from want of the combination necessary for economical working, and of the additional capital requisite for concentrating the operations of the several companies and for the introduction of more modern plants. Under his able management "Scottish Oils Ltd.," can, I am confident, look forward to a long and prosperous career and the industry to a new lease of life. "

The Scotsman, 25th June 1920

.......

At the tenth annual general meeting of Scottish Oils Limited held on 7th June 1929, Mr John Robertson said of William Fraser:

" I should like to speak a word regarding our managing director, Mr William Fraser. As most of you know he has been called to fill a very important position in London with that great concern, the Anglo-Persian Oil Co., and I am sure we all wish him every success in his new position. We also wish him happiness in his new home, which is just outside London. We still will have him as our managing director, and I somehow think that, cradled as he was in the Scottish oil industry, I might almost say with Pumpherston oil in his veins, he will always have the best interests of Scottish Oils Ltd., at heart."

At the same meeting the Chairman, Sir John T Cargill, followed with:

"Now I would refer to Mr William Fraser's great services to Scottish Oils. I knew his father in the old days before I had any connection at all with Scottish Oils. I had the very greatest admiration and respect for him, and that admiration and respect I hold equally for his son. What Scottish Oils to-day would be without Mr William Fraser I do not like to think. "

The Glasgow Herald, 8th June 1929

---