The Beehives of Woodmuir
Coking ovens at Woodmuir pit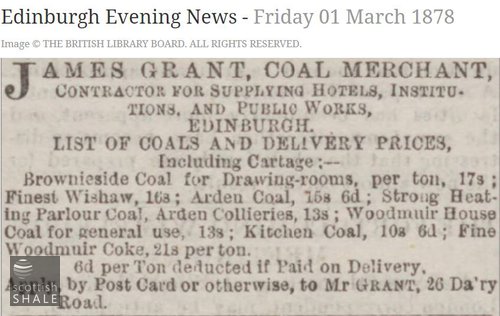 F18020, first published 29th April 2018
About twenty years ago, forestry workers ploughing out drainage channels prior to planting a new "Woodmuir Forest" broke into a series of circular brick chambers which had lay hidden within an overgrown mound. Their heavy machinery had sliced along either side of a bench of ten beehive coking kilns which had been abandoned for over a century. Thankfully the significance of this industrial archaeology was recognised, the site was scheduled as a historic monument, and an "historic building condition report" was commissioned. This report provides a detailed survey of the site, but reaches some rather odd conclusions about the history of the site, (including the suggestion that the site continued in use until the 1960's), and misinterprets some of its features. The Forestry Commission share the story of the beehive kilns through their excellent website, and manage the site to ensure that it remains clear of young trees.
From early in the 19th century, coal was worked from various small pits in the high moorland above the village of Breich in the western part of West Calder parish. In 1868, the Caledonian Railway's new Midcalder and Cleland railway included a branch to the "Woodmuir coal pits of the Belhaven estate". Ultimately a steep zig-zag branch railway was constructed in which trains had to reverse twice to climb over 250ft from the main line in the valley. The seams of coal mined in the area included the "Woodmuir smithy coal" which was well suited for coke production, and by 1872, coke was being produced at Woodmuir, presumably using the beehive kilns. This simple type of kiln was common at many pitheads where coking coal was worked. Coal was fed through a chute in the top of each beehive dome, and burned with limited oxygen to produce a coke used in the foundry industry. "A Native" in his 1885 history of West Calder recorded that Woodmuir coal was "made into coke of an excellent quality, a great number of coke ovens being in operation"
The old Woodmuir pits were exhausted by the end of the 19th century. The 1896 OS shows the coking plant intact but unlabelled, perhaps suggesting they were not in operation, and by 1906 the site was shown as derelict, with the railway track lifted.
In 1898, the Woodmuir Coal Co. opened a new pit; Woodmuir No.5 & 6, to the east of a major fault that had previously limited working. This remained in production until 1963.
Above left: Newspaper reference - Woodmuir coke for sale - a premium product.
Above right: Beehive coking ovens - From A treatise on the manufacture of coke, 1905.
Maps