From Hollywood Dreams to a Mattress Store
F18009 first published 28th February 2018
In the years between 1910 and the start of the first world war, "picture houses" were opened in most West Lothian towns. Temporary arrangements in public halls were quickly replaced by purpose-built picture houses, usually offering a combination of silent films with musical accompaniment, and live variety acts.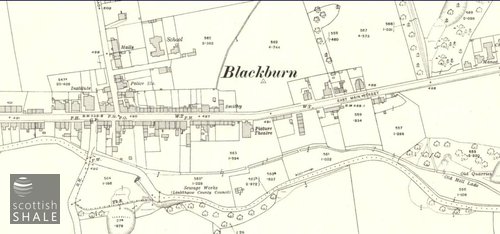 Blackburn's Picture Theatre (or Picturedrome) was opened in about 1913. Facing onto East Main St., about 200 yard east of the cross, it boasted a 16ft stage and two dressing rooms. The first proprietor is recorded as a David Kerr, of Station Road, Armadale, however by 1920 the picture house was operated by Paton Brothers, who also ran a small cinema in Stoneyburn, and were proprietors of licensed premises there. James Paton also ran a fruiterer's business in West Calder.
It seems that the Picturedrome was never fitted with sound equipment needed to present the new talking movies, and was closed in about 1936. By that time a new generation of magnificent art-deco movie palaces were under construction, including Regal theatres at Armadale (1937), Bathgate (1938), Broxburn (1938) and West Calder (1939)
Remarkably, the old Blackburn Picturedrome building still survives, and serves a useful purpose as a store and distribution centre for new beds and mattresses operated by Grants of Bathgate. It is said to have earlier served as a dairy. The barrel roof supported on timber Belfast trusses is very reminiscent of airfield hangers and other military buildings constructed during the first world war, The stone mouldings set into the road frontage around bricked-up entrance doors and windows, hints that it was once more than a humble industrial shed, and at one time brought entertainment, laughter and drama to the hard-working folk of Blackburn.
The Blackburn Picturedrome is one of only four cinemas known to survive in West Lothian; the others being the Regal and Pavilion theatres in Bathgate, and the Victoria Halls in Linlithgow.
Above right: The picture theatre is shown at the centre of this extract from the 1916 25" OS map. Image courtesy National Libraries of Scotland.
Newspaper references