Bodily Functions in Bathgate
Public toilet provision on the streets of Bathgate
F19025, first published 22nd June 2019
Before piped water and mains drainage, the old town of Bathgate must have been a fragrant place. Between the densely packed old houses, middens of ash, household and human waste would accumulate, awaiting the burgh scavenger to cart away this effluent of everyday life. Domestic toilet arrangements were informal - often just pots and buckets - although it seems that the burgh provided some rudimentary public facilities. In 1886, the medical officer of health reported:
"The urinal in Jarvey Street is, and has been for a considerable time, in a most filthy condition, it being apparently more used as a necessary than for the purpose for which it was erected, and although cleaned out by the scavengers, in a few minutes thereafter, the bottom of it is covered with filth. It is my opinion that the only cure for this nuisance would be the removal of the urinal altogether."
A dark close in the old town known as The Callogie also provided an informal public toilet. In 1892 it was still used "as a urinal by grown-up people, and as a privvy by the younger generation." The medical officer proposed that either this public thoroughfare be blocked off at both ends, or a cement floor and drain be fitted so that the area could be hosed down each day.
With the constant threat of the cholera and other diseases, authorities acted to supply piped water and, in the late 1880's, finally installed a proper network of sewers. Efforts were then made to promote the introduction of flushing WC's and other miracles of plumbing. Pubs were refused licences unless they installed urinals within the buildings; it seems that up to that time, a convenient wall in the back yard had been considered adequate provision.
Proper water and sewage services also permitted better provision of public facilities. One particularly vocal exponent of these was Councillor Robert M'Kill, proprietor of M'Kill's household and ironmongery stores. Having canvassed the views of the townfolk, he asserted that Bathgate required from 8 to 10 urinals distributed throughout the town, and recommended the ornamental cast iron structures manufactured by the Sun Foundry, similar to those recently installed in Edinburgh's Queen St. He subsequently conceded that "not less than six" urinals would suffice. Most of the council, with the exception of the Provost, supported this proposal, but there were challenges of cost (which might require adding several pence to the rates), and popular support. Most acknowledged the importance of urinals in maintaining a clean, healthy, and modest town, but few wanted them close to their property. Some felt that such facilities should be hidden away, others maintained they had to be in plain sight so they might be readily found at time of need. The cast iron urinal seemed to offer the best solution to these requirements. Constructed from highly decorative cast iron panels, delicately pierced to allow a good flow of air, they were of modest cost, and could be dismantled and relocated if this were required. The products were a speciality of a number of west of Scotland ironfounders, who exported Scottish iron urinals throughout the world.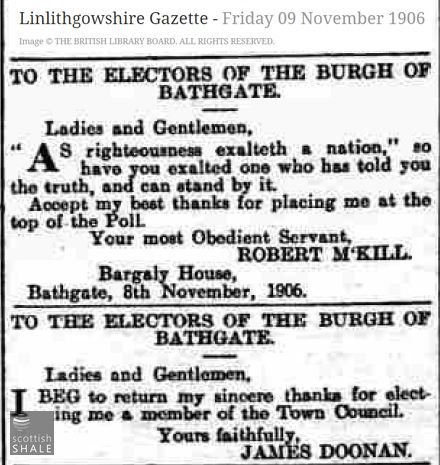 At a meeting of Bathgate police commissioners in 1891, commissioner M'Kill asserted that iron urinals be erected at the Steelyard, at the meeting of North and South Bridge Streets, and Jarvey St. An existing structure at Jarvey Street would then be moved to Young Square in the old town. M'Kill argued unsuccessfully that a special committee be established to direct this plan, and Baillie Stewart remarked "Now Mr M'Kill, if you get this carried out, these places will shine as monuments after you have gone". He was met with laughter. It was decided to go forward with only two urinals, one at the Steelyard at a cost of £9 10s., and one at the meeting of North and South Bridge Streets costing £11 15s. The specification of the Steelyard urinal was subsequent increased from three bays to four, with an entrance at one end.
For a while, the Steelyard urinal enjoyed pride of place in the centre of this public space, but by 1907 there were plans to beautify the Steelyard; the first priority being to replace the iron structure with something larger and more modern. There was talk of "the nuisance on Saturday nights between St David's Church and the station" as a result of "the inadequacy of the lavatorial and urinal accommodation". It was stated that the iron urinal "in its current state, is a disgrace to the burgh". In 1911 a sub-committee was established to consider the question of public conveniences. This recommended construction of a new public convenience in the Steelyard and erection of an additional urinal, either on the corner of Livery St, and Main St. or on Whitburn road; on railway land across from the Dreadnought Hotel. During discussions, councillor Doohan asked whether the committee "had also considered the advisability of also providing lavatory accommodation for ladies"?
The burgh surveyor subsequently returned with two proposals for the Steelyard convenience. The first scheme was a partly underground structure rising to a height of 5ft, above the surface, built of freestone and "slightly ornamented". It contained "two urinal sets in three stalls and two WC apartments" for gentlemen. The second scheme was for a similar building, but including a "ladies' side with two separate WC apartments". Concerns were expressed that this arrangement "was not a suitable one for a ladies' convenience", however this second option was adopted. Councillor Doonan "felt that the committee had acted wisely, as the extra cost for providing accommodation for ladies was comparatively small – only £70"
It seems that the original Steelyard urinal was subsequently moved either to Livery Street or to the site across from the Dreadnought Hotel. The other iron urinal, installed at the meeting of South and North Bridge St., was moved in about 1909 in advance of nearby construction work, and re-erected at the recreation ground and showground on Whitburn Road.
Above right: The very different personal styles of Robert M'Kill. champion of iron urinals, and James Doonan, supporter of ladies' conveniences.