On the Carpet
Carpet bowls in Whitburn and district.
F18036, first published 18th Augsut 2018
At the turn of the 20th century there was a resurgence of interest in the gentle sport of carpet bowls. Standard rules for the Scottish version of the game were agreed in about 1898, following formation of the Scottish Carpet Bowling Association. New clubs were established, and competitive leagues set up in many parts of lowland Scotland. It was a game said to provide "wholesome entertainment during long winter nights", and "afford a counter-attraction to undesirable places of entertainment". The carpet bowls season ran from late September until early April, with competitions taking place in public halls, institutes, recreation rooms, or any other public space large enough to unroll a felt carpet measuring 24ft x 3 ft. Little equipment was needed, just iron guards, wooden guides, and eight pairs of lignum vitae bowls.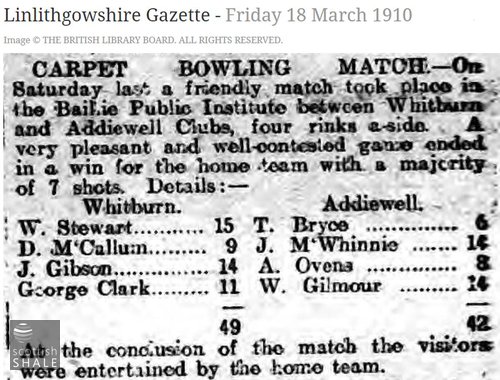 The Whitburn and District Carpet Bowling Association was formed in 1904, and a league established involving clubs from Whitburn, Stoneyburn, Harthill, Fauldhouse, Blackburn, and Addiewell. Clubs from Deans, East Calder and other villages were later invited to join. With this flourishing interest, members of the Whitburn club set out to research the history of the game in their town, drawing on the memories of older citizens. It was said that carpet bowls were first played in 1779 by the weavers of Lady's Lane in Whitburn, using home-made balls shaped from whinstone. The game became popular in the mid 19th century, with Whitburn matches taking place in Robert Binnie's ale and porter shop , where it was said "many happy nights (were) spent – perhaps too many!". Later games were hosted in the old library, then in a room above the cooperative store, before finding a long-term home in Lady Baillie's Institute. The Baillie institute was described as a "popular resort on the cold stormy nights and various games are entered into with much zest by those who frequent the place."
There was fierce competition between the teams of the Whitburn and district league. For friendly games the prizes were often items of practical value such as an alarm clock, a draughts board, or a steak pie! In competition games there was an array of medals, cups, shields and trophies for the glorious winners. Play was to the highest standards, with Whitburn teams winning the prized Scottish cup in 1908 and 1912, and Addiewell being the victor in 1910.
The Scottish Carpet Bowling Association continues to administer 26 member clubs, most based in the sport's traditional stronghold of south-west Scotland. It appears to have been some years since West Lothian teams competed at a national level.