Eppie's Stane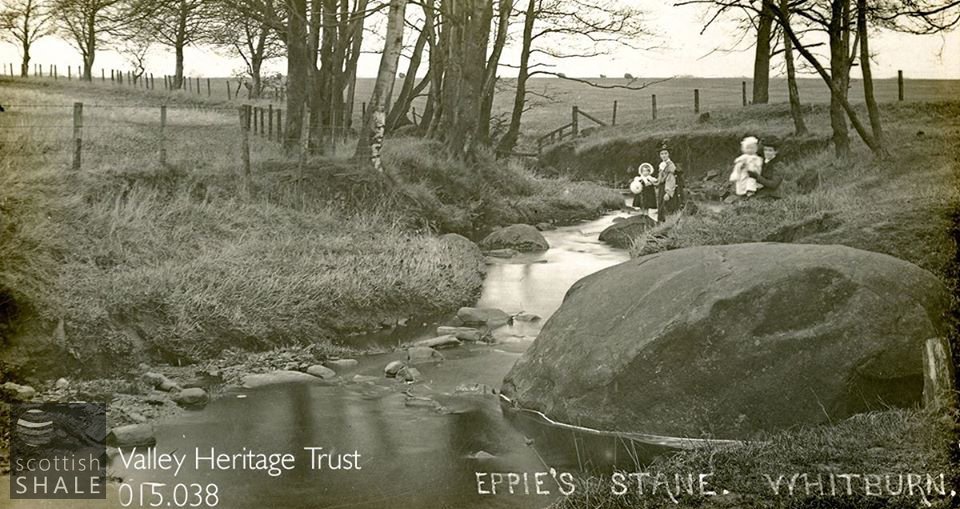 F18013, first published 19th March 2018
The White Burn once wound its way through a gentle wooded glen between open fields. On its journey from Polkemmet Moor to the River Almond it exposed many large rounded whinstone boulders, left behind by glaciers almost a million years ago. One particularly impressive boulder – known as Eppie's Stane, was a favourite meeting point and local landmark. It is unclear who Eppie was, (the name is presumably short for Euphemia), or why a stone came to be named after her. Eppie's Stane is not marked or named on any map, but seems to have borne the name before 1910 when John Gray published "Eppie Gray, or the tale of Eppie's Stane", a rambling romantic poem in broad Scots in which Eppie tended her sheep "while birdies sang on bank and brae".
John Gray seems to have been a colourful and talented character, renowned for his humorous recitations and musical performances. He was the leading light of the Whitburn Amateur Dramatic Society during the 1920s. His other publication; "Pen Sketches of Characters who Frequent Sandy Mitchell's Tailor's Shop – Whitburn" must be one the best book titles ever.
While the White Burn now winds it way between housing estates, the glen still forms a green corridor as part of the Whitburn's Blaeberryhill Park. Eppie is remembered in local street names, and Eppiestane bridge crosses the burn where - perhaps - the shepherdess once perched on her boulder.
Newspaper references
Maps