An Explosive Story from West Calder
Drama at Mungle's Store in West Calder
F19015, first published 6th April 2019
In February 1871, David Lyon walked into Andrew Mungle's general store and asked for a light for his pipe. Lyon was about 62 years old and was variously described as a tramp or a hawker, who in his own words "had travelled through Scotland for six and thirty years". Some accounts suggest that Lyon was begging and making a nuisance of himself, and that shop staff starting to "chaff" him, throwing paraffin and threatening to set him alight.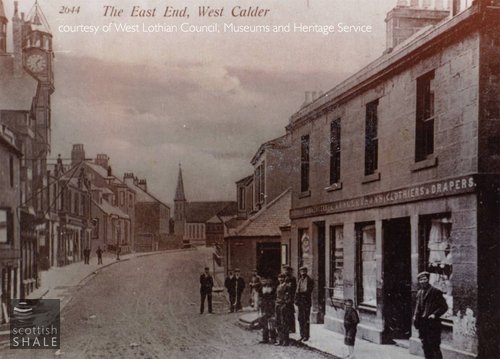 In that section of the shop, staff were busy weighing out blasting powder into one pound paper bags from a large barrel set on the counter. At that time it was usual for miners to supply their own tools and blasting powder which they purchased from a local grocery and provisions store. Mungle's store, sited in the centre of West Calder, was licensed to hold up to 200 pounds of explosive. The shop was lit by paraffin lamps and an open fire burned in a fireplace close to the counter.
It seems that after about ten minutes of heated discussion, David Lyon grabbed a couple of bags of powder from the counter and threw them into the fire. There was a small explosion and then a much larger one which shattered doors and blew out shop windows into the street. Lyon staggered outside. William Prentice, one of two shop-men who had been weighing out the blasting powder, was standing close to the fire and caught much of the blast. He ran into the street in a hysterical state with his clothes aflame and was eventually subdued by a crowd that had been drawn by the sound of the explosion. The scene of horror was witnessed by his sister Isabella. William's injuries proved fatal a week later.
David Lyon was charged with murder, which was reduced at trial to culpable homicide with a plea for leniency. He was sentenced to fifteen months imprisonment, a verdict that was well received by those watching the trial. The old man had lost his sight in the explosion and had become "extremely debilitated and feeble". Andrew Mungle & Sons were strongly criticised for their carelessness in allowing powder to be dispensed so close to an open fire.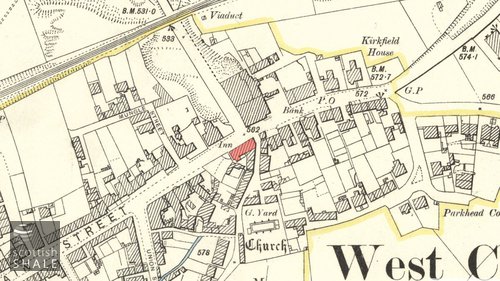 It seems likely that this drama occurred in the shop on West Calder's main thoroughfare, where Main Street meets East End, directly across from the Cleuch Brae. This building would have been brand new at that time. When a licence to sell alcohol was granted in April 1871, the premises were described as "a fine new shop – the best in the place" and the licensee was considered as being of "highly satisfactory" character.
The Mungle family were farmers, merchants and businessmen who played a significant role in development of West Calder village. Andrew Mungle, born locally in 1785, was trading as a general merchant in the village by 1840. The business of Andrew Mungle & Sons passed to his son John in 1858, and then to his grandson John Thompson Mungle from 1879. John T. Mungle was a man of many talents. He was a banker and insurance agent, farmed at North Cobbinshaw, and had many property interests. He served as secretary to the school board, the gas company, and the western district of the Midlothian Agricultural Society. He was president of the curling club, an accomplished golfer and a JP.
When J.T. Mungle died in 1923 at the age of 71, the family shop was put up for sale. It was advertised as an "old established licensed grocery business including another double shop, dwelling house, two small houses, stores and stables".
The building survived into the early 1960's, being cleared at about the same time as the Thistle Tower, and replaced by new housing.
Above right: A. Mungle & Sons, Grocers & Ironmongers, Clothiers & Drapers.
Above left: Location of A Mungle's grocery, highlighted on the 25" OS map c.1895 (courtesy National Library of Scotland).