The First Greenrigg
The lonely Greenrigg rows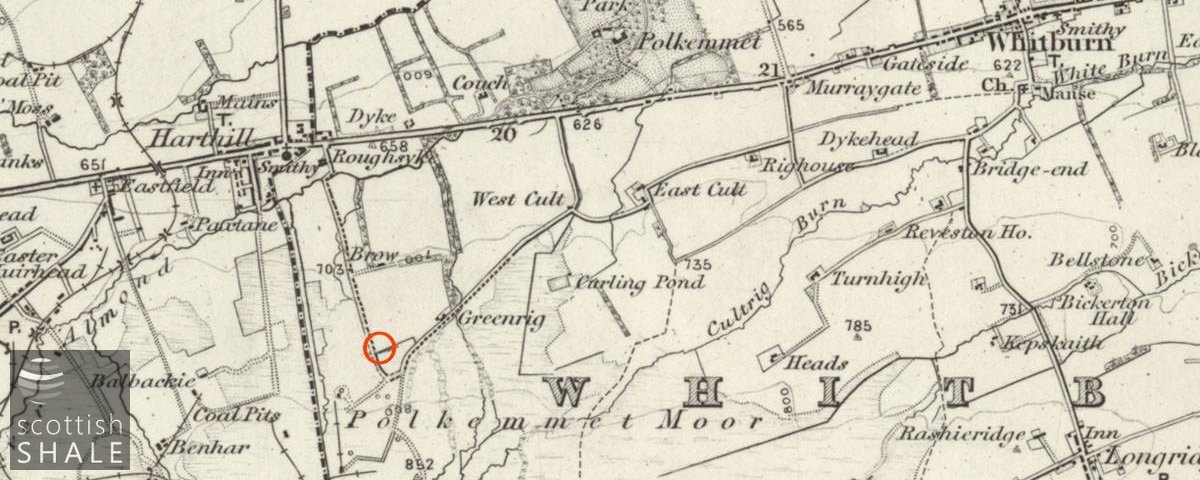 F18054, first published 16th December 2018
Many of the coal mining districts of West Lothian were once peppered with small-scale pits that operated for only a few years before being abandoned. In more remote parts of the county it was often necessary to construct rows of cottages close to the pithead to house the workforce.
The pit and row at Greenrigg were typical of this early, small scale coal mining, but are unusual in leaving traces that can still be seen in the landscape. At many other sites, later phases of mining, forestry or land renewal works have obliterated evidence of the early coal industry.
The pit at Greenrigg lay at the centre of a cluster of small pits on Benhar moor, which had their heyday in first half of the 19th century supplying a quality grade of house-coal to the smart homes of Edinburgh. Greenrigg was amongst those on the West Lothian side of the country boundary, in the lands of Sir William Baillie of Polkemmet.
The low grassed bing marking the site of the pit is now happily grazed by sheep and lies close beside the road from Harthill to Fauldhouse, just south of the track to Greenrigg farm. A pock-mark in the ground, part filled with field stones, marks the location of the pit shaft and lies at the centre of an area of pit waste. Other humps and hollows suggest the site of pithead buildings and roads. Nearby other contours and scattered stones mark the location of the row (including the internal dividing walls) and the gardens that lay on their northern side.
The shaft at Greenrigg, (along with most of the other of the Benhar pits), was abandoned by the time of the first Ordnance survey map of 1856, but was perhaps still in production when the 1851 census recorded an engine keeper and a banksman amongst the residents of the row.
Ten years later, Greenrigg row were still occupied by mining families; the eight small rooms being home to 14 adults and 20 children. The row seems to have been abandoned some time in the 1870's
In 1905, the name "Greenrigg" was used for a new deep pit sunk by United Collieries a little to the east of Greenrigg farm. New houses to serve the new Greenrigg pit were constructed on East Main Street, Harthill, at about the time of the first world war. These were named Greenrigg cottages and became the centre of a new community now known as Greenrigg.
Maps