Filling Up at Camps
East Camps garage and the Camps oil company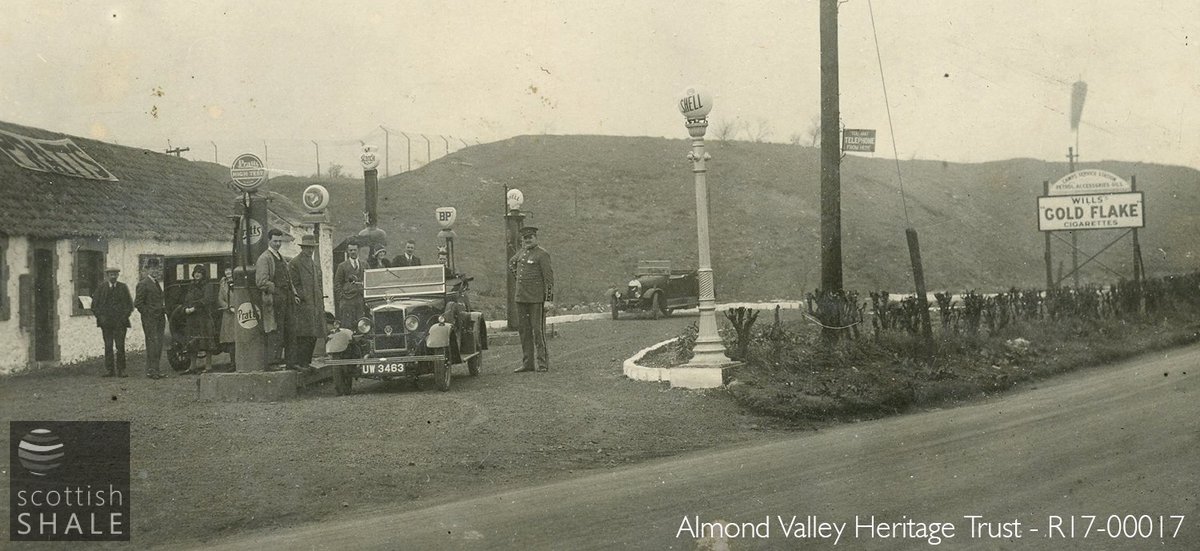 F17023, 10th June 2017
A lovely image from the 1930's of Camps Service Station on the old A71 to the east of East Calder. The mound in the background marks the edge of the huge Camps limestone quarry, which by then will have been filled with rubbish brought by rail from Edinburgh. The pantiled garage office was part of a range of buildings at East Camps that were probably built to serve the quarry. The figures on the forecourt include members of the Hope family, standing between pumps that offered a choice of BP, Shell, Pratts, National Benzole or the shale-derived Scotch fuels.
During much of the 1920's and 30's the garage was also site of a small-scale oil refinery operated by the James Henry Hope's "Camps Oil Company" which presumably processed and blended motor oils. James Henry Hope, listed as a chemist of The Elms, East Calder, seems to have had a background in the shale industry, and was a director of the Shale Oil Scientific and Industrial Research Association.
The garage site has seen many uses in recent years, and is now base for the vehicle dealership of West Lothian Commercials. One of the range of pantiled buildings at East Camps still survives; perhaps once the site of the refinery operations.
---