Ghost Signs and Sunday Drinkers
The Turf Hotel in Blackburn
F19009, first published 16th February 2019
There are websites and social media pages devoted to the spotting of ghost signs; hand-painted adverts and notices on the walls of old buildings, whose faded remains survive long after their purpose has past. Blackburn is slowly developing its very own ghost sign as layers of paint flake off the gable wall of the old Turf Inn, slowly revealing mysterious lettering beneath.
Until about a decade ago a large advertising billboard fixed to the wall of the pub pushed the latest products to people waiting at Blackburn lights, en-route for Livingston or Bathgate. Once the new homes of Quoiters Court were built on the site of the old Baillie Institute, retaining walls and bushes began to obscure the view of the billboard. One day, the dilapidated board was removed revealing the faded but still-smiling face of Father William, William Younger and Company's beer-drinking trade mark, painted upon the wall beneath. There was also the remains of lettering that might have said "get Younger every day".
Since then, the red, white and green paint has been gradually washed away, leaving just a Father William-shaped outline within which much older lettering is becoming apparent. The words "teas", "spirits" and part of the word "proprietor" can now be made out, which coincide precisely with lettering shown on a photograph in our collection showing Blackburn Cross in April 1929. There are also traces of letters and suggestions of squiggles that don't coincide, suggesting there may be several layers of decoration.
The lettering "Turf Hotel, A. Ferguson, proprietor. Luncheons and Teas, Wines and Spirits, Garage" will still have been fresh when photographed in 1929, less than two years after the Turf finally won its fierce thirty year battle to secure a hotel licence.
Blackburn has always been a drouthy place. The Ordnance Survey map of 1855 marks four public houses along the course of East and West Main Street, one of which was later the site of the Turf Inn. In 1868 it was noted that Blackburn boasted three public houses and three licensed grocers to serve a population of only 600, although many travellers on the great turnpike road will doubtless also have dropped in for a bevvy.
What Blackburn lacked was a hotel. Through the years it was argued that a hotel would bring business to the village and offer comfort to travellers. In 1867 it was asserted "The need for a respectable hotel in Blackburn cannot for a moment be denied, and it is high time that the nuisance of commercial men being compelled to drive to Whitburn for the slightest refreshment, and to have their machines left exposed in the streets while doing business, should be put to an end". The unspoken hope of many will have been that a hotel would also provide somewhere in Blackburn where you might slake your thirst on the Sabbath.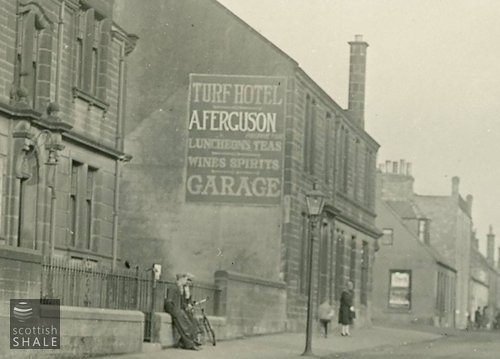 The Forbes-Mackenzie act of 1853 banned the sale of alcohol on Sundays in Scotland, and prescribed opening hours at other times. Residents at hotels were however exempt from these regulations and could be served drink at any time. There was also provision that allowed hotels to serve "bona-fide travellers", who were required to prove that they had journeyed a required distance (often at least ten miles) to reach the hostelry. In latter this years this might involve filling out a register stating your name, address and starting point of your journey, or showing a bus or train ticket for that day. Often you were required to buy food (often a pie) with your pint. This quaint custom remained law until 1976, and many will still remember stories and ruses employed to enjoy a Sunday refreshment. The licensing authorities were therefore highly reluctant to grant hotel licences, and every application was critically scrutinised.
In about 1898, the Turf Hotel (then the Turf Inn) was built on the corner of East Main and Bathgate Roads, on the site of a previous public house. It was specifically designed as a hotel, but had an internal wall separating bedroom accommodation from the public bar. The case for granting a hotel licence, rather than the usual public house licence, was argued on many occasions. In support of a licence it was stated that that the proprietor had been frequently asked for luncheons and teas on a Sunday, no other hotel existed for miles in either direction along a main artery between Edinburgh and Glasgow, the premises had sufficient garaging and stabling facilities, and that the local police station was conveniently just across the road.
It was not until 1927, after Alexander Ferguson of Alva Cottage, Kirknewton had became proprietor, that the Turf was finally granted its hotel licence. Presumably at that time, the small internal wall was demolished to finally unite the rooms and the bar.
The Turf Bar called last orders in about 2015, part of the sad decimation of our drinking heritage that has occurred in recent years. The rooms of the Turf, and others across the road in the former Almond Inn, now form the Bluebell Lodge, a "house of multiply occupancy" offering basic accommodation.
Little more than a year ago, the former bar of the Turf opened as Kim'z Cafe, providing excellent breakfast rolls and home-cooked meals to sit in or carry-out. It is now one of Blackburn's top attractions for hungry artizans, travellers on the A705, and tourists following the Susan Boyle trail.
Above right: Close up of the sign. Sloping lines on the wall seem to suggest the outline of a gable end of a vanished adjoining building which existed before the Baillie Institute was built? These lines are still apparent today.
Maps
Newspaper references