Good Deeds and Exotic Fruit
An early history of Middleton Hall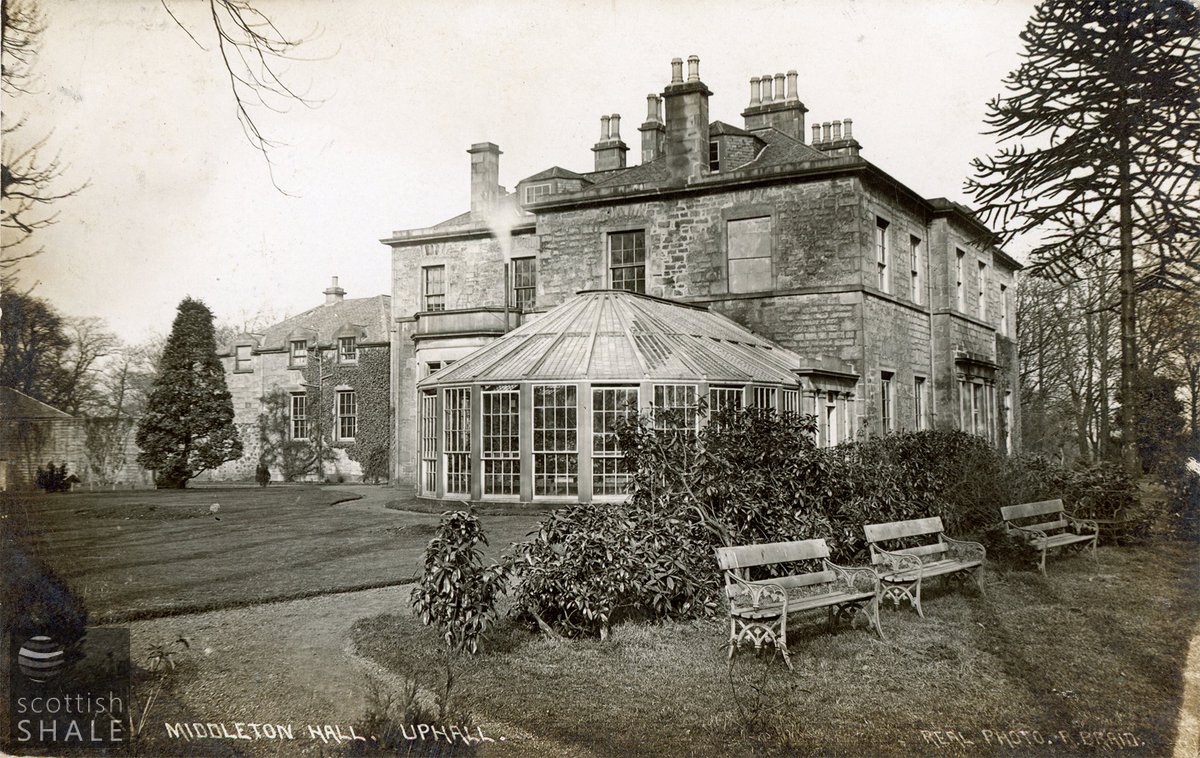 F22003, first published 9th February 2022
Described as "a small beautiful estate and an elegant mansion", Middleton Hall was set within an elegant landscape of lawns, gardens, shrubberies and orchards. The mansion enjoyed fine views towards Edinburgh and the Pentland hills, and was separated from the hustle and bustle of the Edinburgh turnpike road by the wooded valley of the Brox Burn. The lands of the estate extend right up to the road and included the site of the Uphall Inn and a number of tenements. This proximity encouraged a much closer association between the big house and the local community than was often the case. The more enlightened owners of Middleton Hall recognised their responsibilities to less fortunate members of the parish, and sometimes shared the bounty of their productive gardens
The Rev. James Primrose, writing in Victorian times, tells us that Middleton Hall was built in 1707, incorporating stone from the ruins of Strathbrock Castle. It seems likely however that most of this earlier building was cleared to make way for a fine new mansion constructed in about 1798 by William Inglis, a Writer to the Signet. This prominent lawyer seems to have shared a fashionable interest in horticulture, as his home was built with a "large conservatory with a choice selection of plants" and a "small hot house". Inglis was a man of influence and wealth, and a senior figure in the Grand Lodge of Scotland. He had many business interests, but seems to have over-reached himself as Chairman of the Edinburgh, Glasgow and Alloa Glass company, a pioneering firm of bottle-makers. He was declared bankrupt in 1828 and Middleton Hall was sold.
The estate was then purchased by Stuart Moncrieff Threipland; a member of an old Scots family who had spent much of his career overseas on colonial service and had served as vice-governor of Bombay. He enjoyed eight years of retirement at Middleton Hall, adding to the "commodious and comfortable house" with "an elegant conservatory entering from the drawing-room" and leaving a garden "well stocked with fruit trees of the best kinds", and a "grape-house". He died at the hall in 1838, aged 67, leaving no direct heirs.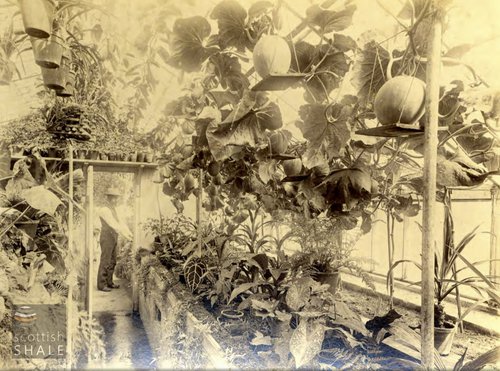 The next owner of Middleton Hall was Robert Wilson Maxwell, a Scot who had served with the East India Company's civil service in the Bengal. Perhaps his time in India that had fuelled his interest in exotic plants, and perhaps he was drawn to Middleton Hall by its fine hothouse, conservatories and gardens. Robert was second son of Sir William Maxwell, one of a dynasty of lairds of Calderwood Castle that stretched back 800 years. Effort was soon invested in the glasshouses and gardens, and in 1846 prizes were won for a basket of cape gooseberries and "a well grown snake cucumber". Maxwell was a founding director of the Edinburgh and Bathgate Railway Company (work started on a branch through his Middleton estate to the Binny quarries, but this was never completed). When the Act of Parliament to build the railway received its Royal Assent, a meeting of supporters enjoyed lunch at the Uphall Inn including "an elegant dessert sent by R. W. Maxwell Esq., from his splendid gardens and hot houses at Middleton Hall". Maxwell died at Middleton Hall in1851, and the property was again put up for sale. At that time it was stated "The gardens cover upwards of two acres of ground, and are very productive; and the walls are covered with fruit trees in full bearing. There is an extensive range of hot-houses, melon-beds, &c., all in the very best order; and a large conservatory filled with the choicest plants and flowers, is attached to the mansion-house, and is entered from the drawing-room." Robert Maxwell had supported good causes during his lifetime, (for instance, providing a series of world maps to Uphall public school), and in his will a range of charities were generously provided for including the Edinburgh School for the Blind , the Night Asylum for the Houseless Poor, and the Institution at Edinburgh for Relief of Persons labouring under Incurable Disease
In 1851 Middleton Hall was purchased by Captain Robert Hankey, an Englishman of wealth and social standing who had served in the 9th Lancers. The following year he married (for the second time), taking as his wife Cecile Charlotte Trelawny d'Estampes, eldest daughter of a French nobleman. Their lavish wedding was held in Brighton, and it was reported that "after partaking of an elegant dejeuner, the happy pair set off in a carriage and four for Grosvenor-square, London, en route for Middleton Hall." He was 45, she was 26.
It seems that Cecile soon settled into life in the big hoose in Uphall, raised a daughter, and oversaw a household of eleven servants and a governess. It was reported that she "takes so deep an interest in the poor, that she has not only provided numerous families with suitable clothing, but daily grants to many a supply of soup, which adds much their comfort". Her husband quickly became embedded in local society, riding with the Linlithgowshire and Stirlingshire hunt, taking the chair of the West Lothian Agricultural Society, and ultimately serving as deputy Lord Lieutenant of the county. He invested much effort in the agricultural output of the little estate, adding "a byre for eight cows, hay-loft and granaries", and winning prizes for pigs, poultry and a large range of other estate produce. Perhaps the charms of this farming life wore thin after a while as his time became increasingly occupied by hunting, shooting, fishing and exploring the seas around Britain in his yacht (or more accurately his yarl), the "Talisman". By 1865 the family seems to have moved back to England, and Middleton Hall was then sold to Sir John Pender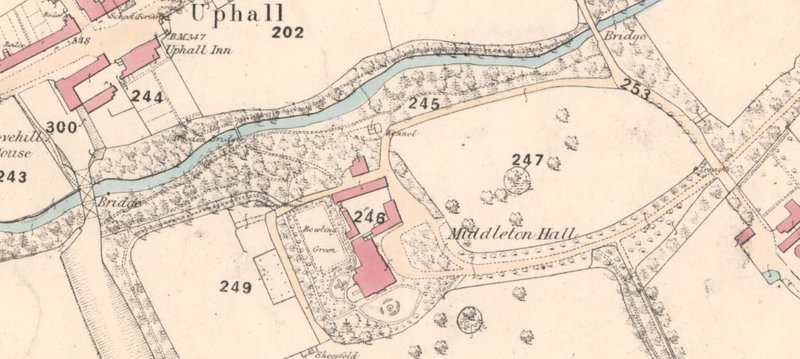 Pender was a Victorian hi-tech hero. He began his working life in the textile factories of the Vale of Leven, became a cotton merchant in Manchester, and then seized the opportunity to invest in the first undersea telegraph cables. He came to control much of the emerging world-wide telegraph network, and invested his profits in railways, shipping and other business enterprises. Having accumulated huge wealth, Pender set out to make his mark in politics and in 1862 was elected MP for Totnes. This constituency was done away in 1866 follow a clean-up of "rotten burghs", so Pender planned to return to parliament in the 1868 election as the Liberal member for Linlithgowshire. Middleton Hall was probably purchased to provide a local base for his ambitions, however despite a ferocious campaign, Pender was soundly beaten by the conservative candidate Peter M'Lagan, and had to wait another four years before being returned to parliament as MP for Wick. Uphall saw little more of the Pender family following the alleged dirty ticks of the election, and for much of the next 30 years, Middleton Hall was leased to short-term tenants, or left largely unoccupied
It seems that the hall's fine orchards continued to bear fruit, as in 1877, a young lad from Uphall named William Copland was charged with stealing a quantity of apples and pears. He was found guilty, imprisoned for 14 days, and then sent to Stranraer Reformatory for a period of five years. The punishment seems unbelievably harsh, even for the finest of fruit.
Pender died in 1896, and when his assets were gradually sold off, the Broxburn Oil Co. chose to purchase the estate so that they could extend their existing shale workings beneath the eastern parts of the land. They had no immediate interest in the big house, so in 1900 let the property to the Edinburgh Parish Council for a period of 10 years "for the accommodation of chronic pauper lunatics", serving as an overflow for the terribly overcrowded Morningside asylum. The authorities began to question their decision when they discovered that the hall was "dilapidated and totally out of order", however no-frills repairs were made, and the hall made ready for sixty five patients.
Although everything was run on a shoe-string (in order to save on costs, it was decided that rooms would be floored in plain linoleum rather than patterned), the arrangement was remarkably successful. Church choirs and local entertainers provided regular concerts for the residents, who were often seen being "taken out for an airing" around Uphall. The grounds were restored to some of their former glory and it was reported that "the lovely gardens of this establishment are now at their acme of Spring beauty; the beeches above and the tulips below have attained their fullest splendour". Not only were the "inmates" of Middleton Hall, much more comfortable than their unfortunate fellows at Morningside, the cost of their care was considerably less.
When the new "colony" at Bangour was opened, the responsibility for Middleton Hall was passed to the new "lunatic board". Life at the hall continued much as before, and the residents continued "enjoyment of home comforts which has always been a characteristic of that part of the asylum".
During world war one, the hall's owners, the Broxburn Oil Company, were placed under state control and then merged with the other shale companies to form Scottish Oils Ltd. This energetic young company had bold plans to develop Scotland's oil interests and saw Middleton Hall as the ideal location for a new central office and base for their technical services. The asylum authorities were therefore informed that their lease would not be extend when it expired in 1920
What happened next is another fascinating story.