Curling at Cult
Cult curling pond and other ponds in Whitburn parish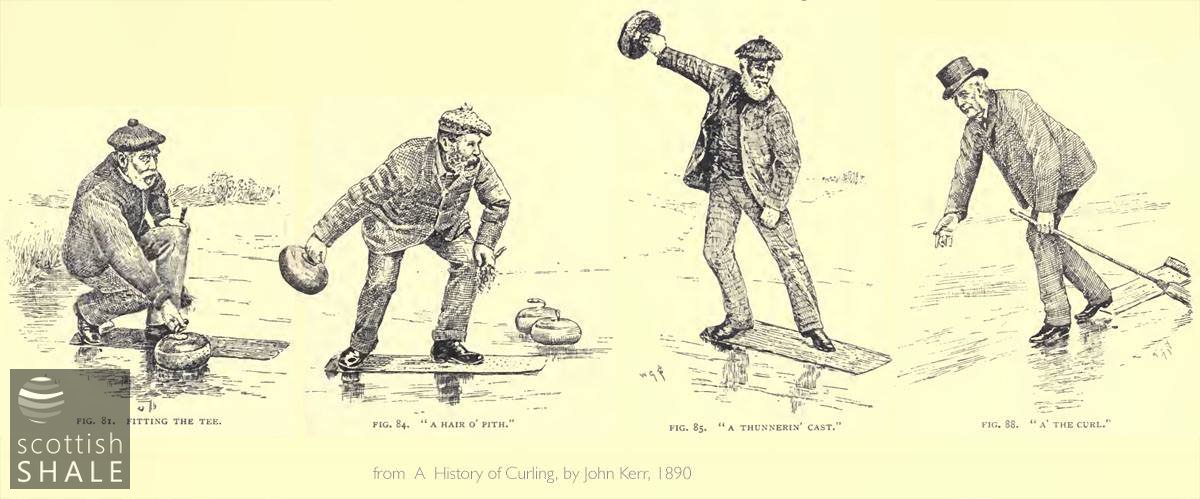 F19006, first published 2nd February 2019
In former times, the clear frosty weather that we're currently enjoying will have seen local ponds crowded with skaters and curlers. Curling was a popular sport in Victorian times, when a colder climate allowed a programme of curling matches to take place throughout the winter months. Most villages had their own curling club competing in either the Linlithgowshire or Midlothian province, and based at their own curling pond.
Curling ponds were usually constructed by levelling off an area of land, forming a low clay embankment around the perimeter, and directing field drainage to flood the area to a uniform depth. Trees might be planted to provide shelter, and a hut provided for basic facilities. Ponds were carefully maintained to keep down vegetation and to prevent damage to the banks by moles and tree roots. Large crowds cheered on their local champions, and competitions sometimes continued late into night, by the light of the moon.
Whitburn's curling club was formed some time prior to 1822, and enjoyed the patronage of the Baillies of Polkemmet House. During its long history, the club was associated with four different curling ponds, and, rather surprisingly, traces remain at two of these sites.
It was said that in the earliest days, the club held matches at a pond to the east of Croftmalloch farm, although there is little indication of this on the first Ordnance Survey maps of 1855. This map does however clearly show curling ponds in the lands of Cult Farm, to the south west of Polkemmet House, and at Longridge, alongside the road to Fauldhouse. It seems that the Whitburn club first played at Cult, where Lady Baillie was later to recall "in still older days, soup or Irish stew were taken up from the Big House". Matches were then played at Longridge, where Whitburnians and residents of the rapidly growing ironstone districts collaborated as the Whitburn and Fauldhouse united curling club.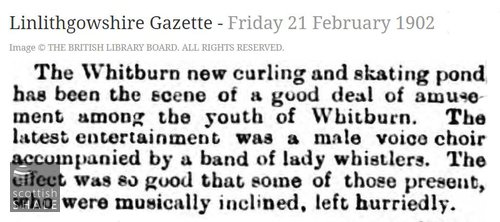 At the start of the 20th century Whitburn folk set out to construct a new curling pond much closer to their homes. Lady Baillie made available 2 ½ acres of land at west end of the town to create a skating and curling pond, said to be in "one of Mr. Lindsay's fields, known as Nannie Wood's Bog". Funds were raised by public subscription, local tradesmen constructing the clubhouse provided their services free of charge, and contractors contributed free transport of the 250 cubic yards of material used to form the embankments. In 1902, it was reported that "the pond is giving splendid satisfaction and enjoyment both to skaters and curlers, who have certainly taken full advantage of this means of winter recreation". Fauldhouse Curling Club continued to hold their matches at the Longridge pond.
In subsequent years, a succession of mild winters caused increasing disruption to the curling programme. After the first world war Whitburn curlers continued to win awards, but all competitive matches were held at the indoor ice rinks of Edinburgh and Falkirk.
The site of Cult pond narrowly escaped opencasting as part of the Heartlands development, and although abandoned for over a century, patches of reeds and lines of trees still sketch out its boundaries. Field boundaries and a belt of trees also continue to describe the site of the Longridge pond, enjoying an open vista to the south, across the Briech valley.
The location of the new (1901) Whitburn curling pond is not named on later Ordnance survey maps, but seems to have been on a site that continues to be used for public recreation as part of King George V park.
Maps