The Hidden Hall
F20023, first published 7th June 2020
"Gardner's Hall" seems a rather grand and intriguing name for a modest little farm set on a ridge between the Bickerton and Foulshiels burn, a little to the south of Blackburn. The first Ordnance Survey map, published during the 1850's, shows Gardner's Hall as a single narrow building divided into four sections, described in accompanying notes as "a small farm house, one storey high with offices....there is a garden and small farm attached." The map clearly shows a neat rectangular garden to the south of the farmhouse, on the haugh-lands beside the Foulshiels burn, enclosed on all sides by trees and hedges, A similar layout of farmhouse and garden had been sketched-out on the earlier Forrest's map of Linlithgowshire, printed in 1818, although it was named simply as "Garden Hall"
Some time before 1895, a new farmhouse was built on the ridge overlooking the garden, running parallel to the old farm buildings. This too was a simple single storey building, but embellished at one end with an imposing gable, with ground floor and attic windows overlooking the slope to the garden and beyond to the winding course of the Foulshiels burn.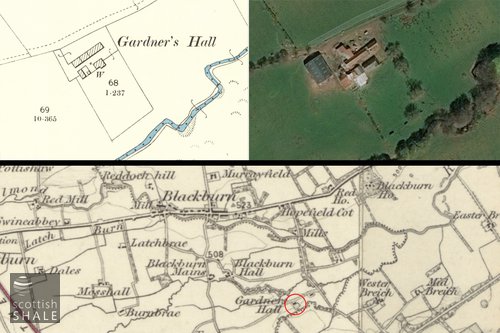 Remarkably, the full range of buildings survive intact but unloved, hidden in countryside, some distance from the public road. Most of the pantiles have fallen from the roof of a fine two storey building, solidly built with dressed sandstone quoins and dressings, and walls infilled with random rubble and field stones, The building is very similar in style to the threshing barn at our own Livingston Mill Farm. The byres that extend from the barn are in a similarly sad condition. Part of these may once have formed the original living accommodation at Gardners Hall. All still bear traces of whitewash that will once have given the range of buidings a clean and cheerful appearance.
The Victorian farmhouse still (just) keeps out the weather, and looks down on a neat, leveled rectangular plot of land that once formed the garden. This is now grazed as part of a larger field, but is still defined by broken sections of hedge, and several large trees that will have shaded the garden for a century or more
The 65 acres of Gardner's Hall were recorded in 1855 as the property of Mr. Martin, and occupied by George Fleming. George died in 1864 at the age of 58, and the tenancy of the farm passed to Richard Ford, who survived until 1888. By the time of the 1891 census his widow Janet is recorded as farmer, sharing Gardner's Hall with her daughter Lillias (28) and granddaughter Jessie (13)
The name "Gardner's Hall" remains a bit of a mystery. A number of alternative spellings were recorded in the 1850's including Garden hall, Garners hall Garnerhall and Gardnershall. It's a little odd that another Gardner's Hall exists in West Lothian, a small farm off the Linlithgow to Bo'ness road, once a fruit farm and market garden, now converted to a very smart home. This is named "Gardener's Hall" (with the "e") on first edition ordnance survey maps.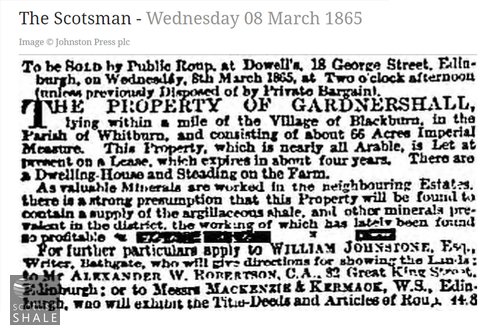 In the 18th century a "Gardener's Hall" existed in Edinburgh, Aberdeen, and other Scottish towns, Some were houses with market gardens that may have been meeting places for gardener's guilds or lodges, where advances in horticulture were shared and competitions held for the finest fruit and flowers. These local guilds gradually evolved into the Order of Free Gardeners, established in the mid 19th century as a fraternal society with symbolism and rituals similar to those of freemasonry. As membership grew, links with horticulture become more symbolic rather than practical but, "Free Gardener's Halls" sprung up as meeting houses in towns throughout Britain.
There is no evidence that the Gardner's Hall near Blackburn had anything to do with early hoticultural guilds, however the neat waterside garden does seem much grander than the usual farmhouse vegetable plot.
John Milne in his 1912 book "Place names of the Lothians" comes up with a different explanation, maintaining that Gardner's hall was derived from the gaelic for "rough hill of the shieling"
Garbh = rough; dun = hill, airidh = shieling, Choill = hill. Although this does sounds plausable, Mr. Milne seems to have gone to great lengths to discover gaelic roots in almost any place name, and no reference to "Gardners Hall" has been found in documents earlier than the 1818 map.
Maps