From Hollywood to Broxburn and Beyond
Film Transport Services and Fairfield Garage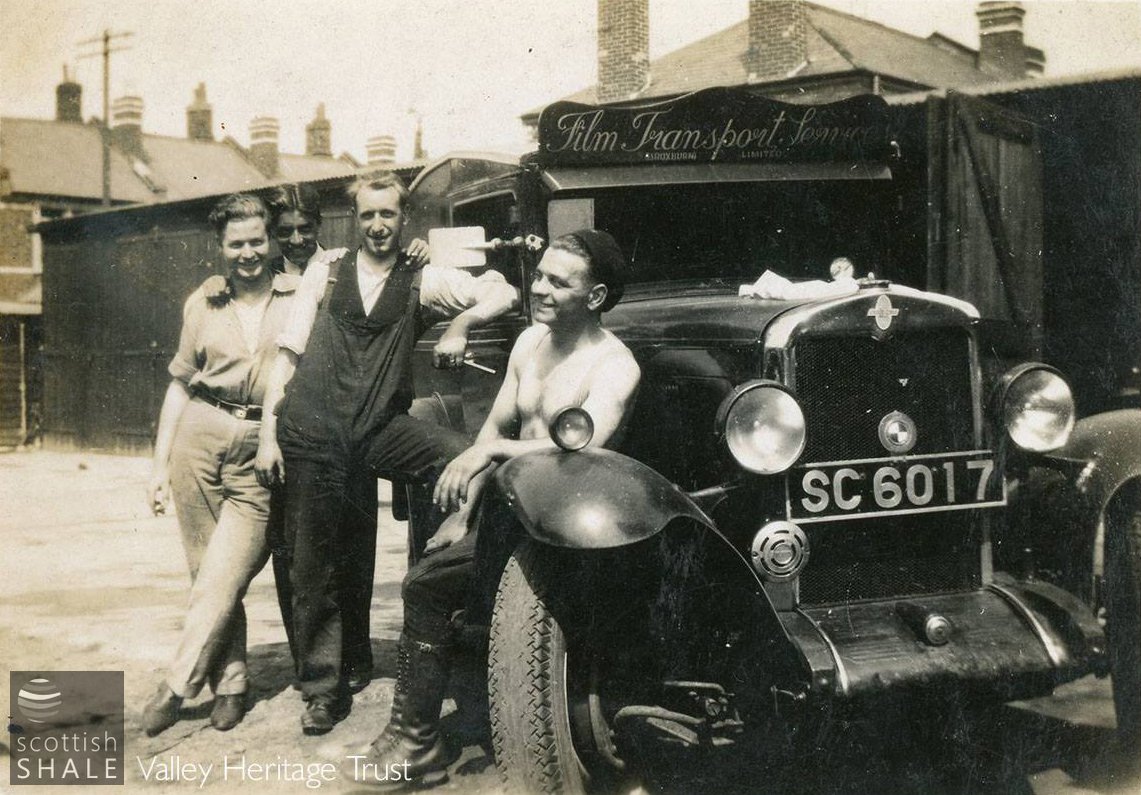 F18041, first published 22nd September 2018
From their headquarters in Broxburn, and from a network of depots, the powerful Chevrolet vans of Film Transport Services (Broxburn) Ltd. raced along the highways of 1930's Scotland delivering newsreels and the latest cinema releases. The mastermind behind the operations was Ivor Reginald Grove, born in 1892 into a welsh mining family, who trained as an electrician before entering the cinema business at the age of 19. Joining the navy at the outbreak of World War One, he was made responsible for film and theatrical shows on board ship, and went on to organise film entertainments at naval bases.
In 1920 he became proprietor of the Kinema House in Uphall, and the following year formed the first specialist film transport company in Scotland. Film Transport Services (Broxburn) Ltd was formed in 1927, with a share value of £7,000.
Within a few years, a similar film transport concern was formed in his native Cardiff, and through further growth and acquisition, a nationwide distribution network was established, serving 2,000 cinemas "from Exeter to Aberdeen". At the same time, Ivor Grove grew his cinema interests as Managing Director of Lothian Star Theatres, building a new generation of massive deco-style picture houses at Armadale, Bathgate, Bo'ness, and West Calder during the late 1930's. Ivor's empire also extended to picture houses in Lochore and Arbroath, and interests in a number of Glasgow cinemas.
The nerve centre of Film Transport Services was Fairfield Garage, constructed in about 1928 and strategically sited beside the A8 trunk road at the east end of Broxburn. The impressive three storey frontage of Fairfield House was of a similar bold deco style to Ivor Grove's cinemas. Films were stored and repaired there, and delivery vehicles garaged and maintained. It was also a filling station and public garage undertaking servicing, repairs and the sale new vehicles.
Ivor and Isabella Grove lived close to the garage at "Fairmount" villa until about 1938, when they purchased the substantial Inchgarvie House in South Queenferry. Ivor had been appointed a JP in 1930, and, on moving to Queensferry, devoted more time to public life, being elected a local councillor, and appointed to a commission in the territorial army. As war approached, his contacts and experience were of particular value in planning for local defence and government control of road haulage.
In 1941 Ivor Grove was appointed the first commandant of the Army Kinematograph Services; his combined experience in transport and cinema being the ideal qualification for leading a service responsible for setting up temporary cinemas in the theatre of war. The Kinema Corps. continued to deliver film entertainment, education and propaganda in India following the war.
Brigadier I.R. Grove C.B.E, J.P., M. Inst.T, died in August1955; Film Transport Services (Broxburn) Ltd. was wound-up in 1953.
Until recently, The splendid art-deco Fairfield House was in use as a branch of Greggs bakers, providing pies to hungry travellers. It now lies empty and planning consent was obtained earlier this year to build a drive-through restaurant on the site. This seems to require the demolition of this elegant and historic building.
Above left: From the Kinematograph Year Book 1935.
Above right: From The Linlithgow West Lothian Official Guide. LVSAV 2014.055