Bathgate's "Show Place"
The Knock in the Bathgate Hills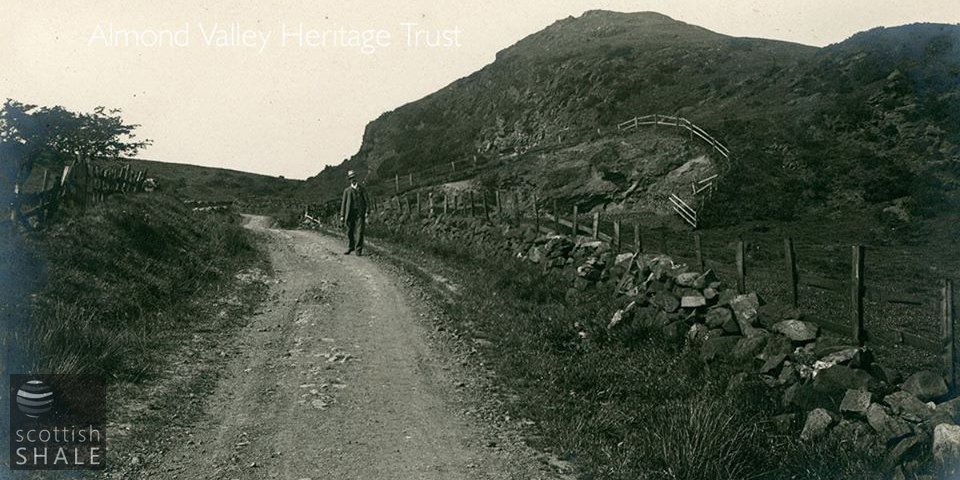 F18003, first published 20th January 2018
At 1,023 feet above sea level, The Knock (or Knock Hill) is the highest natural summit of the Bathgate hills, and offers brilliant views eastwards to Rosyth, the Forth bridges and beyond. This craggy ridge of hard intruded volcanic rock (a quartz-dolerite sill) was a favourite destination for country rambles and summer picnics, offering a refreshing escape from the smoke and grime of industrial Bathgate.
The Knock lay on private land, and during World War One the tenant of Knock Farm attempted to block public access to the hill, claiming that excursionists were damaging fences and other property.
The Bathgate Railwayman's Association, which included many keen ramblers, led public protest against this action. In an impassioned speech to Bathgate town council the railwaymen stated:
"The privilege of ascending the hill, both in use and wont, had come to be considered by us as a right. It is one of the most attractive spots around Bathgate; in fact the only "show" place we have...." "Many Bathgate bairns will recall how, in their boyhood, they climbed the hill and strained their eyes to catch a view of the Channel Fleet on their occasional visits, not to mention the bonfires on great occasions such as the Coronation, which were kindled on the hill. No; we cannot afford to let this old-time privilege go. It is too precious."
While this plea was sympathetically received, the Council were powerless to take action as The Knock lay over a mile outside their boundaries. The situation was finally resolved in 1936, when the hill was gifted to the people of Bathgate by landowner D.M Sutherland, as a memorial to his parents and brother. In accepting the gift, Provost Cunninghame stated that he could "not imagine anything which will make a greater appeal to the imagination of the Bathgate people than the knowledge that The Knock, of so many memories, is theirs and their children's for all time."
For those bold enough to brave today's snow, The Knock remains a wonderful place to escape to, build giant snowmen, and sledge down its perilous slopes.
Newspaper references