Miss Clark Drives the Train
The opening of Bridgecastle pit.
F18050, first published 25th November 2018
On the 25th of April 1895, Miss Clark climbed aboard the footplate of a small locomotive, blew the whistle, opened the regulator, and set off with the first train of loaded coal wagons from the Bridgecastle pits to the main line at Couston sidings. On a mile-long journey through the green countryside that lies between Armadale and Westfield, her train rattled eastward from Whiterigg No.1 pit across the lands and mineral reserves owned by her mother. Level crossing gates were closed across the public road to Westfield as she steamed onwards, skirting the grounds of The Brighouse before bearing north to meet the North British Railway's Blackston branch near South Logiebrae farm.
It might be imagined that Miss Clark returned to the pithead by carriage to rejoin the celebrations marking the opening of the new pit and railway. Here friends and business associates shared wine and cake, and toasted the success of the Eastrigg Coal Company.
Regrettably, the short newspaper account that recorded this event provides few further details, and no image exists of Miss Clark, in all her Victorian finery, at the controls of the colliery pug.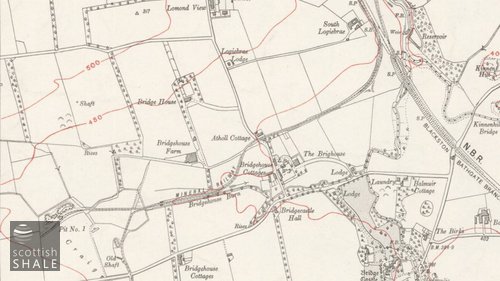 It seems that "Miss Clark" was Elizabeth or Bessie Clark, who was then aged 29. Bessie was the eldest daughter of Whitburn GP Thomas Clark, who was Medical Officer to the parochial board and a man with various property and business interests. It seems likely that Bessie was born at Almondbank Cottage in Whitburn; an elegant villa which was home to a family of five, two servants and a nurse. The doctor owned other buildings in Whitburn, and also Benhar Cottage; a sizeable residence that was family home in later years. Dr. Clark died at Benhar Cottage in 1889 at the age 69, and his property passed to his widow Agnes, who was sixteen years his junior. Daughter Bessie and her younger brother Alexander seem to have supported their mother in maintaining the family business interests.
Dr Clark's brother Alistair was also a man of many business interests and was at one time owner of Inch colliery in Bathgate. It was perhaps through his brother that Dr. Clark came to acquire the lands and minerals of Bridgehouse, Wheatacre and North Luggiebrae sometime during the late 1880's. In about 1889, the Lanrigg Coal Company sunk their Bridgehouse pit on a site close to Easter Wheatacre farm, but this was abandoned and the site cleared by 1893 Soon afterwards, the Eastrigg Coal Company established their No.1 pit on a site a few hundred yards away, and constructed the railway branch line along which Miss Clark drove her inaugural train. The Eastrigg company seems to have prospered and soon extended their railway across the road to link to their new No.2 and No.3 pits.. Operations were transferred to the Drumpellier and Craigrigg Coal Co. Ltd in 1905, who continued development of the coalfield, established a brickworks, and in 1923 built the last of the "Craigrigg rows" that makes up most of the present village of Bridgehouse. The pits closed in 1930, making 150 men redundant.
By 1911, Agnes Clark and her grown-up children Bessie and Alexander had moved from Whitburn to a smart terraced villa in fashionable Morningside. All were recorded in the census as being of "private means", with Alexander being noted as "doctor of medicine – not practising". Agnes lived well into her 90's and she and her family continued to own the lands of Bridgecastle at least into the 1930's
It might be imagined that Bessie settled into the genteel life of a Morningside lady, enjoying a social calendar of dainty teas, recitals and soirees; but such pleasures seem unlikely to have matched the thrill of the wind and steam in her hair on that spring day in 1895 when she drove the colliery pug.
Above right: 6"OS map, c.1913, showing branch from Eastrigg No.1 pit to Couston siding. Image courtesy of National Library of Scotland.
Other reference material