Lost Curling Ponds
A quick survey of West Lothian's curling ponds.
F19007, first published 13th February 2019
Following the many interesting responses to our recent post about curling ponds, we share some further information, gleaned from old Ordnance Survey maps, about the many sites where curling competitions once took place in West Lothian.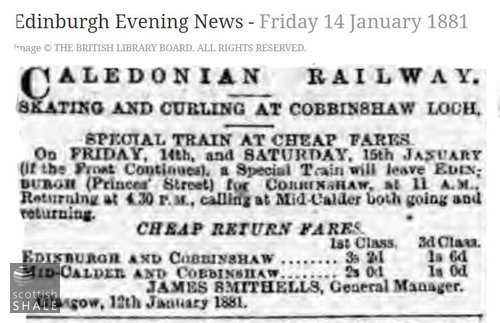 By the start of the Victorian era, most parishes had their own curling club, usually under the patronage of the local laird, who would set aside an secluded area of wood or field for construction of a pond. The earliest records of local clubs, according to the Royal Caledonian Curling Society are Bathgate (1811), Buchan (Broxburn) 1838, Linlithgow (1820), Torphichen (1831), Uphall (1838), Whitburn & Fauldhouse (1829), Bellsquarry & Livington (1831), Kirknewton (1825), Midcalder (1830), West Calder (1823). Further clubs were formed to serve the new industrial communities.
In addition to ponds used for public matches, many estates had their private ponds, and informal curling competitions often took place on ponds, streams and the canal. Linlithgow loch, Cobbinshaw loch, and the wetlands around Bathgate, were particularly popular with skaters and curlers during the frozen depths of winter.
A new type of "artificial" curling pond began to be built at the end of the 19th century as part of the recreational amenities of towns and villages. Constructed with masonry walls and an asphalt base, they eliminated much of the danger and uncertainly of the old ponds and could be converted for bowling or tennis during the summer months.
The locations illustrated here are very unlikely to be an exhaustive list, and much further research might be done to unravel this fascinating history, and this lost pleasure of winter.
Maps
More maps