Moss Cottages
Country cottages in Livingston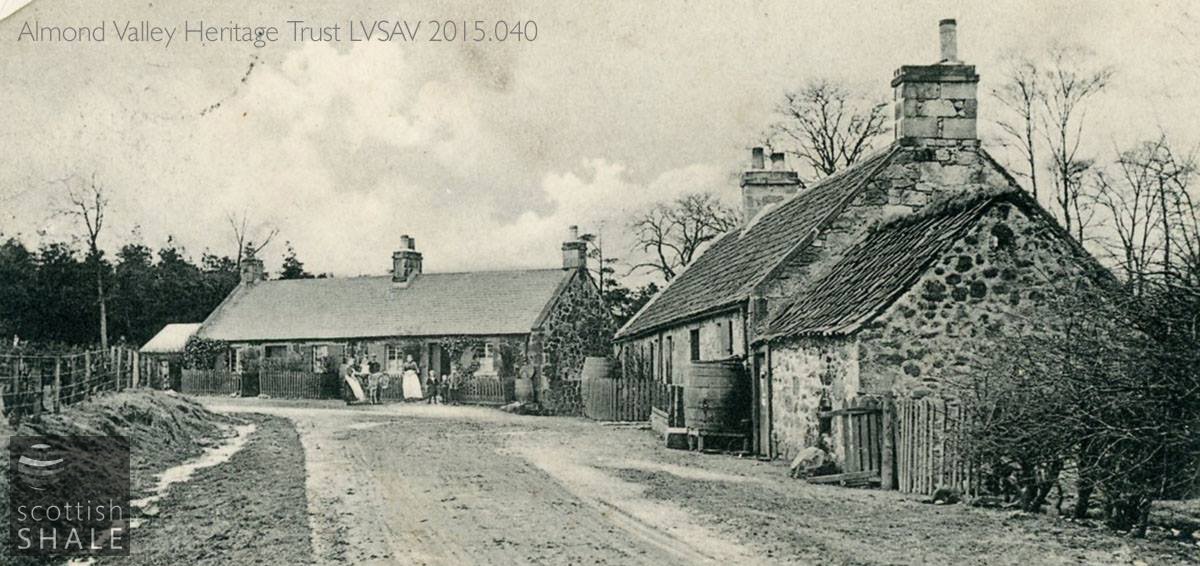 F18004, first published 27th January 2018
Moss Cottages, also sometimes referred to as "Mossend" or "Moss Houses" lay either side of a junction in the road that once linked Midcalder and Dechmont. In about 1855 they were described as; "one story high and slated in good repair- they have small gardens attached - the property of Miss Pitcairn". The heavy waterlogged soils of the area were of little value to agriculture, therefore much of the land was retained as woodland. Our postcard, postmarked 1905, shows the two rows of cottages, built mainly from random whinstone, with the woods of Dechmont Moss and Livingston Moss in the background. The muddy road and the water-filled ditch give the impression of all-pervading moistness.
This sleepy corner was transformed following the formation of Livingston new town, and the adoption of a masterplan that ignored the established pattern of roads. The new town development corporation went to great lengths however to safeguard the existing belts of woodland, once planted to shelter fields, and also retained many farms and cottage buildings to provide a focus for the new communities in each district of the town. In 1972, the one surviving moss cottage became part of the group of buildings offering a focus and heart to the new community of Knightsridge.
Today the old cottage still provides a comfortable home, but cowers behind a high fence and massive evergreen hedge, as if attempting to distance itself from the shops and community spaces created to serve the new town. On a gloomy January afternoon, before shutters are lifted to reveal the welcoming lights of the chippy, there seems a sense of melancholy and neglect about this little part of Knightsridge. Perhaps it's an echo of the sodden wilderness that once existed there ?
Newspaper references