Mr. Robert Braid – A Man of Many Parts
Livingston's Pioneer Photographer
F20021, first published 24th May 2020
The photographs of Robert Braid capture the everyday life of West Lothian folk in ways that few other Edwardian photographers could match. Otherwise dull street scenes might be brought to life with successions of matronly ladies standing proudly on their doorsteps, huddles of giggling girls caring for crying babies, and barefoot boys showing off for the camera. A cumbersome tripod and box camera might be set up in the middle of the street, and the inhabitants of an entire village enticed from their homes and be part of a huge community portrait. Staging such epic images must have taken great persuasive powers and warmth of personality.
Glass plate negatives were developed in his tiny darkroom in Livingston village, where photographs were then printed off by hand for sale as post cards. Many thousand of images must have produced in this way, all with a photographic sharpness that has preserved amazing detail. Most featured a title and the lettering "R. Braid" or "RB" scratched into the negative in his distinctive spidery block capital script. Unfortunately the chemistry of these hand-made prints was not always perfect, and many surviving images now suffer from fading or silvering.
Considering that Robert Braid has left us such a valuable historic record, suprisingly little is known about the man and his life. There's no evidence that he ever received formal training in the art and science of photography, but instead spend much of his working life on the footplate, firing and driving steam locomotives.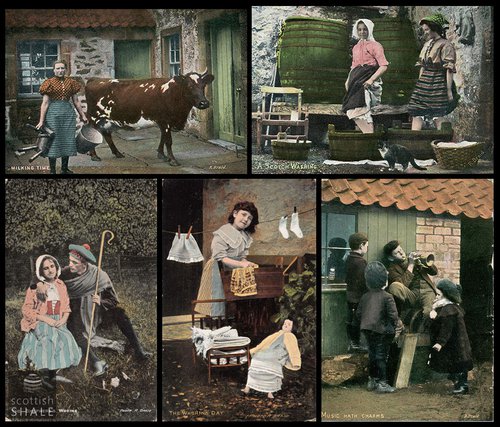 Robert Braid was born in Livingston village in 1863. The Braid family had a long association with the village; his father was born there and various relatives ran the pub and post office during much of the Victorian era. His father James seems to have had many business interests and was variously described as a "merchant" or a "joiner and general grocer". The 1861 census described him as a "wright employing five men and two boys", suggesting he might have been proprietor of the village smiddy.
When Robert was about a year old and his older brother James was three, their father died. Funds were found to allow James to attend George Watson's school and begin a career as an academic bookseller before setting out, aged 22, to seek his fortune in North America. He settled in Ontario where he became a noted writer and historian, and a leading citizen of the town of Windsor, where he remained till his death in 1925
The progress of younger brother Robert is less clear. The 1881 census records him as an apprentice watchmaker aged 17, living with his mother Sarah who had by then re-married. Ten years later he's a railway fireman lodging in Glasgow's grimy east end at Camlachie. Three years further on, he marries Elizabeth, who was born and raised in Glasgow. By the time of the 1901 census, Robert had been promoted to locomotive driver, and aged 36, was living with wife Elizabeth and two month old Robert in Shettleston in the eastern suburbs of Glasgow.
In the same year - 1901, twelve houses were advertised for sale in Livingston village, "sometime the property of the late Andrew Braid". It seems that this sale might have released family money, or provided other incentive for Robert to give up his life on the rails, and return with family to his home village?
Robert was certainly back in Livingston and active in photography by 1903, when there were accounts of his presenting magic lantern shows for various sabbath schools, and some of his earliest postcards were being produced. From 1905 (when his occupation was stated as "watchmaker") through to the outbreak of the first world war, Robert Braid seems to have worked full time as a professional photographer. There are many newspaper accounts of his attendance at openings, unveilings, gala days and other celebrations, and some of his images were reproduced in the press. His huge body of work over this period shows that he travelled widely throughout Midlothian, Linlithgowshire and surrounding areas to record a remarkable range of landscapes, streetscapes and group photographs. The best of these capture the animated lives of those living and working there.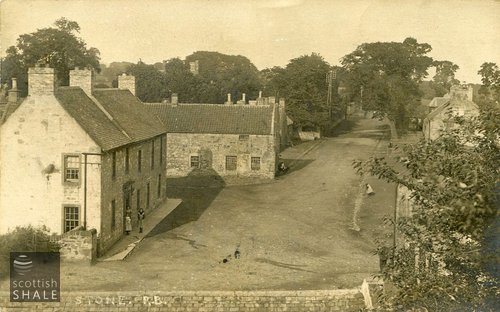 Early in his photographic career, Robert also produced a series of sentimental, novelty, and humourous costume studies, often associated with coothy sayings. His family and friends were usually drafted in to dress-up and play the part of sailors, milkmaids, mischievous children, and other characters, often set against local buildings and landscapes. These were printed and coloured by the Glasgow firm of Millar and Lang, and were sold in their thousands througout Britain.
Robert continued to produce postcards throughout the first world war, including many that will have conveyed good news and bad from Bangour war hospital. Sunday schools also continued to be entertained, as described in an account from 1917;
"A splendid lantern exhibition was given by Mr. R. Braid, Livingston. Mr. Braid is a man of many parts, and his name is a household word in Bellsquarry. Many of the slides shown were of Mr. Braid's own making and consisted of local scenes and characters. Great mirth was created by the comic slides shown and splendid selections were rendered by a huge gramaphone."
The end of war also marked the end of a golden age of postcards. Robert seems to have done little further photographic work and was content assisting his wife in running the village post office. He died in 1936, aged 73.
Sadly no obituary or other accounts of his life seem to have been published that might have provided a little more insight into the character of this remarkable man.
Above right: A selection of Braid's humourous and sentimental cards, featuring many villlage residents and local backdrops.
Above left: The ladies of the Livingston Inn gaze up at the camera set high up on Livingston Kirk. The dormer window of Braid's home in the village post office is seen on the right side of the road.
Recent images