Pumping from a Peaceful Place
The pumphouse on the River Almond serving Westwood works.
F21005 - first published 15/05/21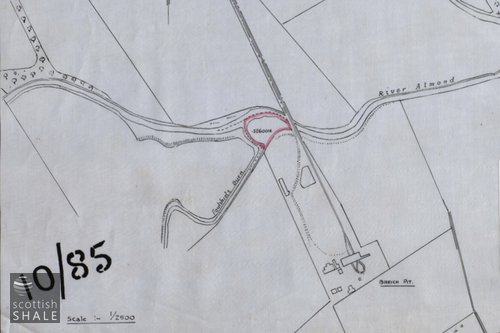 Close to where the infant River Almond converges with the Foulshiels burn, the collective waters are detained for a moment by a low weir set between weather-worn brick walls. Cascading over this small step, the water bubbles down a shallow race before flowing between the circular piers of an old bridge, now almost hidden among the trees and bushes.
It is a quiet and peaceful place, increasingly separated from outside world by woodlands that have been planted along the north bank of the river. It's clear however that this was once a place of industry, from where the modest flow of the little river was diverted to serve a very important purpose.
The small building just south of the river was once the "Almond pump house" that supplied water to the great Westwood oil works. The structure was built from the distinctive shale bricks made by Scottish Oils Ltd at Pumpherston. These often had the unfortunate habit of crumbling away with repeated frosts, and the decaying walls of the derelict pump house now clearly display the scars of almost eighty winters
Westwood was the last and the largest of Scotland's shale oil works, built at the start of world war two to provide the country with a secure home-produced source of oil. Large volumes of water were used throughout the oil production process, consequently much of the flow of the Almond had to be drawn up by electrically-powered pumps and piped to Westwood works, just over a mile to the south. Here the water was re-used and recycled, through a string of processes in which it was evaporated and condensed. Having worked hard, it was finally treated and released into the Briech water immediate to the south of the works. The flow in the Almond was fickle and sometimes terribly polluted by the coal industry upstream, and extensive filtration and chemical treatment was needed before the water was fit for industrial use. At times of drought the oil works were forced to extract cooling water from the Briech Water upstream of the works, or else buy the pure but expensive water piped-in from Cobbinshaw Loch.
When the shale industry closed in 1962, the pump house, (along with nearby Breich No.1 & 2 pit) was allowed to fall gradually into a quiet dereliction. It remains as a tiny memorial to a big thirsty industry.