The Sad Tale of Christina and Jemima
Life at Inveralmond Cottages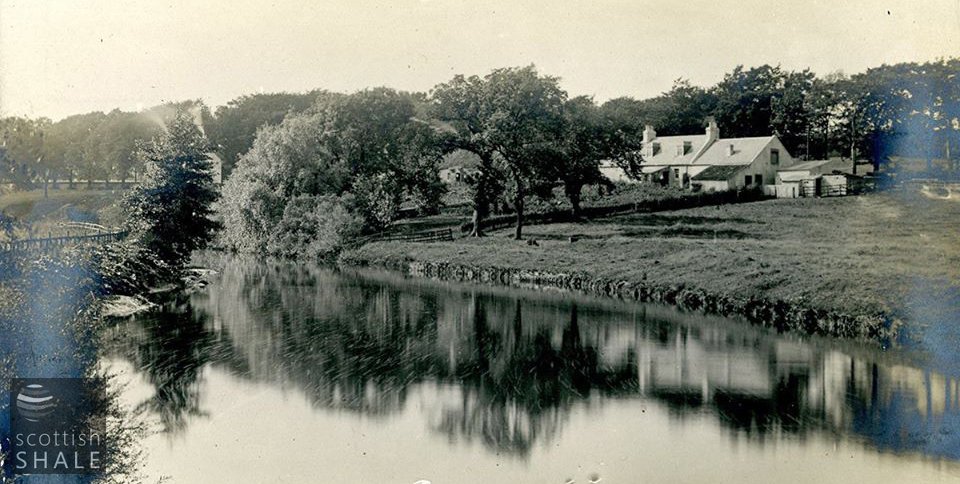 F18024, first published 2nd June 2018
The hamlet of Inveralmond lay halfway between Livingston village and Midcalder, beside the toll road to Edinburgh. It consisted of the lodge that guarded the entrance to Howden House, a row of ten cottages, and a farmhouse attached to 22 acres of land. All were part of the Howden estate, which during the 1870's was the property of Captain Robert Todd.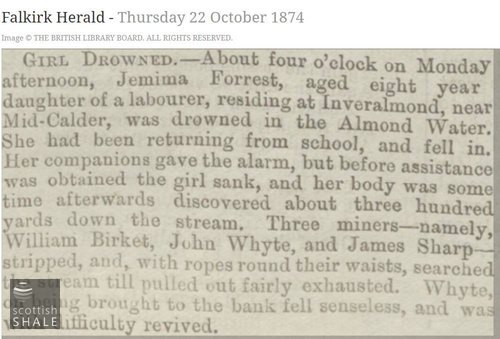 The Forrest family farmed at Inveralmond from the 1850's through to end of the 19th century. The 1871 census shows John Forrest as tenant of Inveralmond Farm, while James Forrest, (perhaps John's younger brother), is recorded as living at Howden Lodge. James Forrest, a carter by trade, shared the small lodge house with his wife Christina, daughters Janet, Jane and Margaret, son Adam, and two-year old Jemima, the baby of the family.
Jemima will have been well known to everyone in the small community. The ten tiny cottages of Inveralmond row were home to over fifty people at that time, including families of paper-makers at Adam Robertson's New Calder mill, and shale workers from Ireland, presumably engaged at the Oakbank oil company's pits and works.
Jemima's walk to school seems likely to have taken her over Howden bridge, past Howden toll house, Robertson's paper mill, and into Mid-Calder. Perhaps she and her friends sometimes chose to walk beside river Almond rather than follow the road, and one fateful day in October 1874, she fell into the river on her way home from school and was swept away by the current. Newspaper accounts record the heroic, but futile efforts of three miners to rescue her. Presumably these brave men were her neighbours in the Inveralmond row.
In 1881, Jemima's mother Christina is recorded as gatekeeper of Howden lodge, widowed and sharing the lodge with her son Adam. Ten years later, at the age of 54, Christina took her own life by throwing herself in the swollen river Almond close to her home. No evidence remains of what drove her to such a desperate act, but it might be imagined that her last moments were devoted to thoughts of her youngest daughter who perished at the same spot, seventeen years previously.
Inveralmond farm and the row of cottages survived into the 1950's, but all traces were cleared following formation of Livingston new town, which saw the construction of a new Howden bridge, new housing and other radical changes to the landscape. Christina and Jemima's former home in Howden lodge does however survive, in a greatly extended form, as the Riverside veterinary practice on Howden South Road.