The Scottish Dutchmen
Moss Litter works, and moss litter workers, in West Lothian
F22004, first published, 14th February 2022
Until late in the 19th century, horses were a vital part of city life. Stables, large and small, were scattered throughout urban districts to house the thousands of horses employed in hauling trams, cabs, lorries, drays and most other road vehicles. Much of the life of a working horse would be spent within the confines of its stall, lying on a thin bed of straw scattered across the floor. In about 1888, an amazing new substitute for straw was introduced to the British market. Moss litter was claimed to be 50% of the cost of straw, absorbing nine times the amount of urine, and locking in the ammonia and smell. Very soon moss-litter was being imported in huge quantities from Holland, the German states, and other parts of northern Europe.
Moss litter was made from the peat cut from the upper levels of a bog. Turfs were cut, stacked, and left to dry before being transported to the processing plant. Here the turfs were teased apart through spiked rollers, and sieved to separate off the finer matter. The remaining fibrous material was then packed into a hydraulic press and compressed to form bales of moss litter.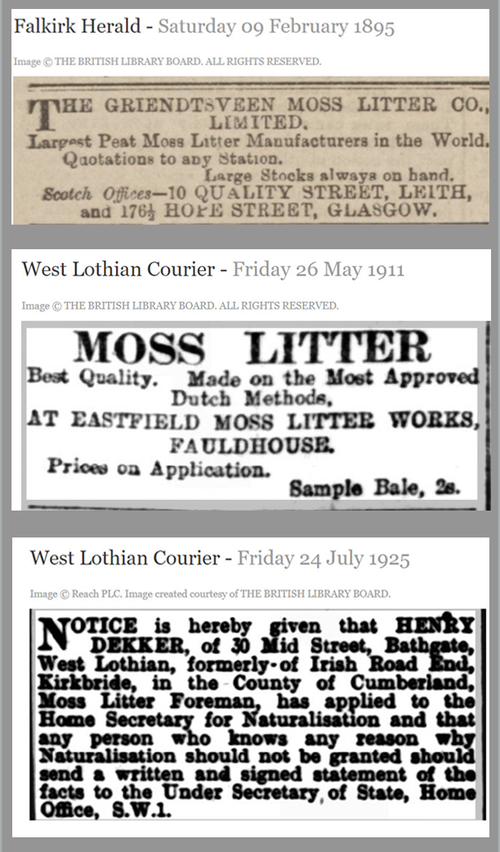 The Dutch have always been masters of wetland engineering and have long worked peat on a huge scale. Moss litter was first produced in the Griendtsveen area from 1881, and by the end of the decade large quantities were being shipped out through Rotterdam to ports on the east coast of the UK. In 1893 an Anglo-Dutch company, the Griendtsveen Moss Litter Co. Ltd, was formed to bring together many of the major players in the moss litter trade, and to promote production in parts of England. Very soon, moss and peat was worked using Dutch expertise in several parts of England, but most notably in the flat featureless boglands south of Goole. Here a colony of nearly 500 Dutch men and women created a little piece of the Netherlands in the wetlands of Yorkshire.
In West Lothian, it seems that an Armadale moss litter works was operating by 1891, as newspapers reported an accident to Isabella Henderson who suffered terrible injury when her hand was drawn into the "teasing mill". The works are a bit of a mystery, and seem to have avoided inclusion on any known map A 1903 directory lists Jamieson Crawford, as "moss litter and firelighter manufacturer", but it is not know whether there was any Dutch connection with the business.
In 1909, the Midland Moss Littler Company Ltd was formed with a share capital of £5,000, while in 1912, the Benhar Moss Litter Company Ltd. was formed with a share capital of £4,000. Both had registered offices in Glasgow. It' is not know if Dutch capital was behind either enterprise, but in both instances the practical management was in the in the hands of Dutchmen.
The Midland company's works at Easter Inch, began in about 1909, lay beside the branch line that linked Seafield oil works with the main line to Bathgate. Peat workings extended out from either side of the branch line, leaving parallel banks along which horses drew little trains of narrow-gauge wagons back to the mill. Here a gas engine powered the breaker, elevators, screens, a suction pump and a hydraulic press. Products were loaded onto standard gauge wagons on a siding retained after the Seafield oil works had closed. This dusty process, housed within rough buildings of corrugated iron and creosoted timber, meant that damaging fires were not uncommon in the peat industry
The Benhar moss litter works lay close to the Fauldhouse to Blackridge road, and was at first connected to the main line railway by the branch that once served the Eastfield ironstone mines, crossing main roads at two points. The works were set up in 1910 but after two problematic years, ownership passed to the Benhar Moss Litter Company. From the works, a horse-drawn narrow-gauge railway found a route between old quarries and ironstone bings to reach peat workings on Fauldhouse moor.
The demand for moss litter quickly declined as heavy horses were replaced by motor transport, however peat became increasingly popular for horticultural purposes, making firelighters, and other industrial uses. Both the Benhar and Easter Inch workings remained in production into the early 1960's
Dutchman Martinus Hubertus Seuren was the first manager of the Midland works at Easter Inch, and seems to have lived in England (presumably working in the peat industry) prior to taking up his appointment. The Midland Moss Litter Company developed many interests south of the border, operating works in Lancashire and Shropshire, with many of their workforce of Dutch origin. Martin Seuren is recorded as manager of their Whitchurch works in 1937
John Beuken was the first manager of the Benhar works and subsequently managing director of the Benhar Moss Litter Company. The company soon opened further litter works at Greenhead near Wishaw and at Longriggend, and seems to have had a close association with the Lancashire Moss Litter Co. Ltd
John was a native of the peatlands near Griendtsveen, and moved to Britain in 1906 to escape tough economic times. He presumably progressed within the Dutch-owned peat industry in England prior to moving to Fauldhouse in 1912 with his wife Adriana, A number of his countrymen followed. There's no evidence that local folk felt any animosity towards the incomers, but there do seem to have been some cultural differences. In 1917 the local sanitary inspector reported "At Eastfield Moss litter works, the Dutchmen employed there have taken to slaughtering old horses and dividing the carcase among themselves, and using it for human food. I have intimated to them that this must be discontinued."
In addition to directing the peat operations. John found time to develop a thriving transport business and pioneering a bus service between Whitburn, Fauldhouse and Shotts. As his family grew, so did his business interests, including a horticultural nursery and firelighter factory (both benefiting from the products of the peat works), a grocery shop, and in 1935, the opening of Beuken's garage on Sheephousehill. Post-war this was the base for Beuken's Luxury Coaches; offering summer excursions to Scotland's beauty spots
With this success came opportunity to show gratitude for the community that had welcomed John and his family. The Beukens could be relied upon to contribute to local good causes, and John and Adriana's diamond wedding was celebrated by a party in the Crofthead cooperative hall attended by much of the community, including all of it's senior citizens. John called the event "a thank you to the people of Fauldhouse who patronised us when we started a local bus service in 1924"
John died in 1963 and Adriana in 1965, however the family's business interests continued.