Starlaw's Moving Story
In search of Starlaw village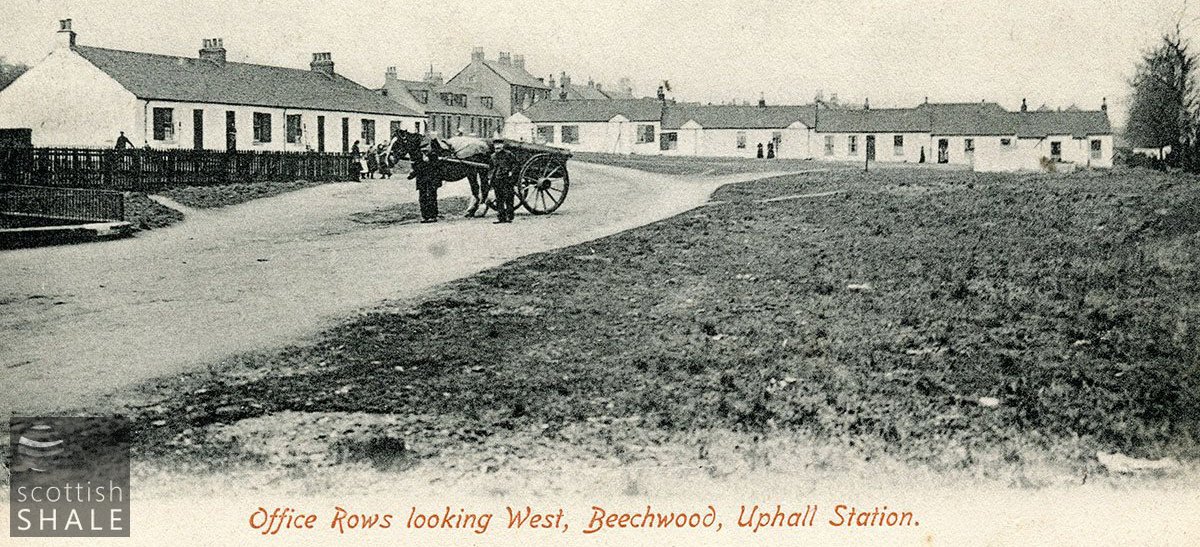 F18033, first published 28th July 2018
Ghost villages abound in West Lothian. In the Victorian age of industry, workers' housing was often hurried and cheaply constructed to serve new mines and works in rural locations. Such industries often had a short life, leaving these remote homes empty, neglected and slowly falling into disrepair. Once demolished, their sites returned to agriculture or wilderness, leaving little trace in the landscape. Many were too short-lived to appear on maps, and few were ever photographed.
Starlaw Row, between Livingston and Bathgate, was such a ghost village, but was rather unusual in that some of its houses were dismantled and erected elsewhere.
Boghall (often referred to as Starlaw) Oil Works, was a bold enterprise begun in about 1867 to rival James Paraffin Young's mighty Addiewell works. It's backers included a former partner of Paraffin Young and the local landowner and MP. It seems that Boghall works and its associated mines never lived up to expectations and its owners increasing turned their attentions to their other works in Uphall.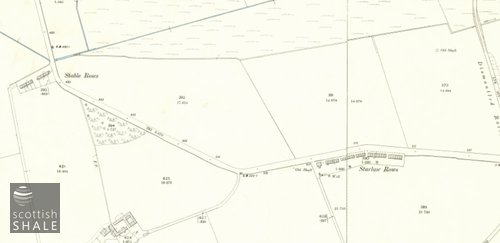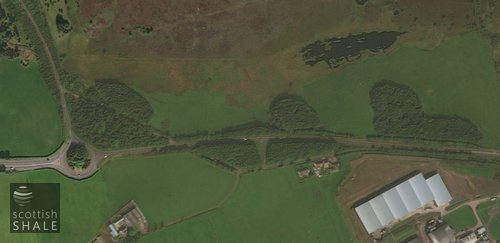 The proprietors of Boghall oil works erected over 60 homes to house their workforce; thirty in Starlaw Rows, eight in Stable Rows. All but one of the eight victims of the terrible 1870 Starlaw pit disaster were residents of the Starlaw Rows. The location of the remaining twenty or so homes is unknown; – some might have been temporary huts used during construction of the works which continued in use as rough homes afterwards. A number were however of brick construction, as evidence by an 1881 advertisement seeking contractors to take down twelve brick houses from Boghall and re-erect them at Uphall Oil Works. It seems that among the workforce of the appointed contractor was the fourteen year old Annie Allan, employed to chisel off the mortar from the old bricks at Boghall. She died when the gable end of one of the old houses collapsed and crushed her. A further ghost in a ghost village.
It's not known where the Boghall houses were re-erected in Uphall station; a large number of new houses were built to serve the rapidly expanding Uphall Oil Works at that time. One possibility is that they formed the odd collection of buildings known as Office Rows.
Boghall works closed in about 1880 and much of the remaining housing lay empty until sold to the West Lothian Oil Company, who opened their new oil works at Deans, a mile to the East. The village enjoyed something of a renaissance with a new school at Starlaw constructed with funds from the oil company. Little was invested in improving the housing however; the sanitary inspector reporting that the village's only water supply came from an open ditch between the two sets of rows, said to be small, dirty and probably contaminated with "impurities from the farmsteading". There had been outbreaks of scarlet fever and a fatal case of smallpox. The ditches in front of the rows were described as "in a most filthy state, putrid matter and water filling them and causing a most disgusting smell". A reliable piped water supply did not reach the village until 1895.
The West Lothian Oil Company collapsed in 1891, although by then many of the houses in Starlaw row already lay empty. At that time, the Pumpherston Oil Company were reconstructing Seafield Oil Works on the site of an earlier failed enterprise. New housing was urgently required for new Seafield workers therefore old rows at Starlaw were taken to house of Pumpherston Oil Co. staff, presumably as a temporary expedient. It seems that little was done to improve living conditions, and in 1914 it was reported that there continued to be only four privies to serve the thirty houses of Starlaw Rows
During the 1930's it seems that some of the internal wall between houses were knocked down to provide more spacious homes, but by the end of the decade the ten single room houses had been demolished, and the twenty room-and-kitchen homes at Starlaw and the houses of Stable Row appear to have shared this fate soon after. Starlaw school closed in 1938 and was sold by the council a decade later.
The only surviving physical link with this lost community is Starlaw Cottage. This fine established home at the western end of Starlaw rows is on site of the works manager's house or office, and might incorporate parts of the original building.
Above left: 25" OS map c.1895 showing Stable and Starlaw Row. Image courtesy of National Libraries of Scotland.
Above right: Recent aerial view of the same area, with the 1960's Starlaw Road and M8 roundabout cutting across earlier routes.
Newspaper references