If Only the Knife had been Sharper
Horror in the Harburn Rows
F18027, first published 16th June 2018
The Burdiehouse limestone found in the rocks of the Lothians shale-field was ideally suited as a flux in iron and steel production. Many iron-masters operated limestone quarries and mines in West Lothian to supply their works in the West of Scotland. In about 1880, the Coltness Iron Company established a limestone quarry at Harburn, and constructed a group of twelve worker's houses – the Harburn Rows - beside the main road to West Calder.
By 1906, the lime works were being operated by the Shotts Iron Company, and most of the limestone was being mined in a network of tunnels extending southwards below Harburnhill.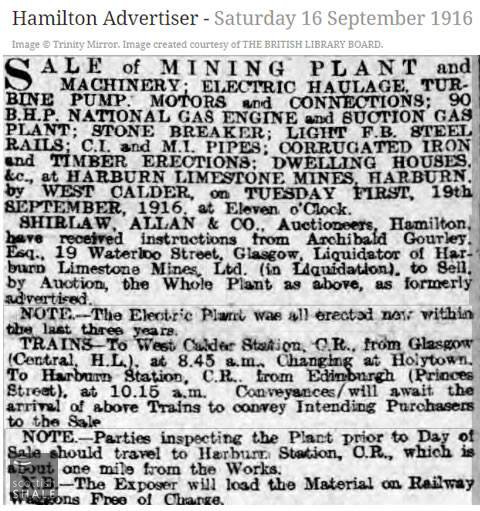 At that time, the tenant of one of the cottages of Harburn Rows was Robert Ness, a labourer at the limestone mine, and his wife Catherine. Both were originally from Fife, and were recorded in the 1901 census as living at No.17 Kirkgate, West Calder, with Robert described as a shale labourer. In 1906 Robert was aged about 66 (with some suggestion that he was older), yet still laboured in the limestone mine each day. Catherine was a couple of years older still, and was partly paralysed so required assistance with the everyday chores of life. Towards the end of October 1906, the woman who had cared for Catherine left the household, and a few days later the usually industrious and temperate Robert was absent from work and was seen to be drinking.
On the evening of 31st October, neighbours reported hearing odd noises coming from their cottage. There was no sign of the couple the following day. The manager of the lime works was eventually summoned with a spare key for the front door. On entering, Robert and Catherine were discovered side by side in a bed soaked with blood, and a pocket knife on the bedside table. Catherine had bled to death after her throat had been cut. Robert had been able to cut through his own windpipe, but had failed to sever major blood vessels before losing consciousness.
When revived, Robert – described as "an old, grey man of quiet and inoffensive temperament" - confessed his crime; explaining that he could not both nurse his wife and go to his work, therefore "saw nothing better than starvation before him" and "thought it better to end it".
He was taken to Edinburgh Royal Infirmary, where it had been thought he would recover, but died five days later. On his deathbed he stated that his only regret was that "the knife was not sharp enough as he made a bad job with himself."
The Harburn limestone mine was abandoned in 1916, and the pithead equipment sold. Harburn Rows seem to have been demolished soon afterwards.
Above left: The "West Calder Murderer" dies.
Above right: Closure of the mine. Within a decade a new mine would be opened at Harburnhead, which continued in operation until c.1962.