Tramroad to Barbauchlaw Quarry
Building stone for Armadale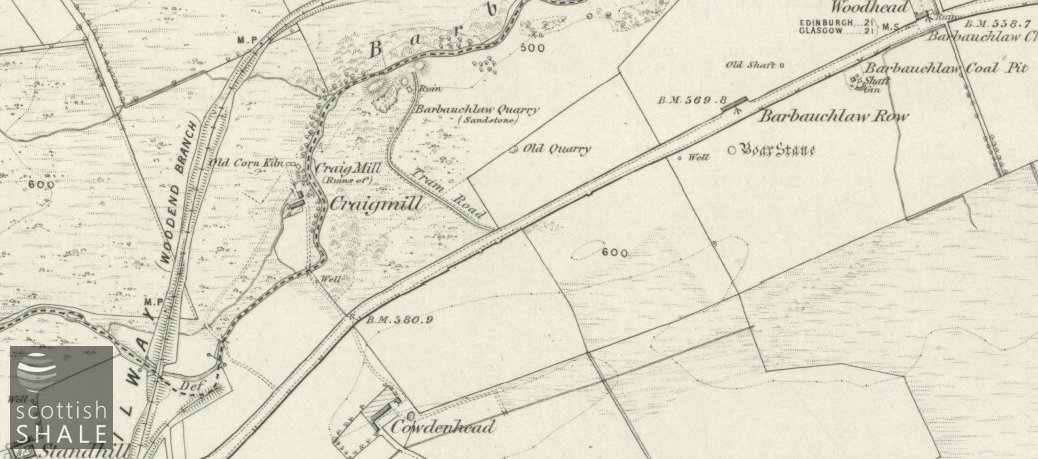 F17041, first published 12th November 2017
A freestone quarry, producing a good quality sandstone for building purposes, was established close to the Barbauchlaw burn, about a mile west of Armadale, during the first part of the 19th century. No mention was made of the quarry when the Barbauchlaw estate was offered for sale in 1830, but by 1854, when the first ordnance survey map was produced, it seems to have been a significant operation. The 1854 map shows a tramroad linking the quarry to the Glasgow Turnpike road from where the sandstone blocks would have been loaded onto horse and carts. The quarry continued in operation into the 1880's, latterly operated by Robert Fleming & Co., and seems likely to have supplied much of the building stone for the rapidly developing town of Armadale. The 1896 map shows operations abandoned with no trace of the tramroad, however the quarry seems to have been reopened c.1903 to supply building stone for the new Armadale school, but was again marked as abandoned on the 1910 map.
Newspaper references
The quarry still remains, now filled with mature trees, and the route of the lower parts of the tramroad can still be clearly traced. As maps show no trace of an engine house, it seems likely that it was left to teams of horses to haul the wagons of heavy standstone blocks up the steeply inclined tramroad. The route of this tramroad cuts across a much older landscape in which the mediaeval ridge and furrow field system is still clearly visible and the remains of stone walls mark enclosures and boundaries that were abandoned long before the first OS maps.