The Windmill Man Visits Bathgate
Railway photography at Guildhaugh
F18032, first published 21st July 2018
Stanley Freese, born in 1902, was a commercial artist and author who spent most of his life in the village of Great Missenden, Buckinghamshire. He was a man of many interests, publishing pamphlets expounding radical ideas on town planning, campaigning for fairer public transport policies, and promoting the rights of the cyclist. In 1936 he faced libel charges following a personal campaign against members and officials of Buckingham County Council for practices that he considered unfair to cyclists. Abusive postcards were sent, and messages were left taped to lamp posts, naming individuals as "lying bribe snatchers", and making other personal accusations.
In court, it was said that intense concentration on his artistic work, and the frustrations of the regular commute to his London office, had temporarily affected the balance of his mind. He was described as "a young man of a very temperamental disposition".
Stanley found peace and contentment in windmills. From his early 20's he enjoyed long cycle excursions into the countryside of southern England, where he painted, sketched and photographed windmills. In 1931 he co-authored "In search of English Windmills" and went on to publish many other books and guides on mills and millwrights, often illustrated with his own drawings. Through public talks, letters to newspapers, and practical action with a group of friends, he did much to raise awareness and promote the preservation of the windmills and their associated heritage. He continued with this passion until his death in 1972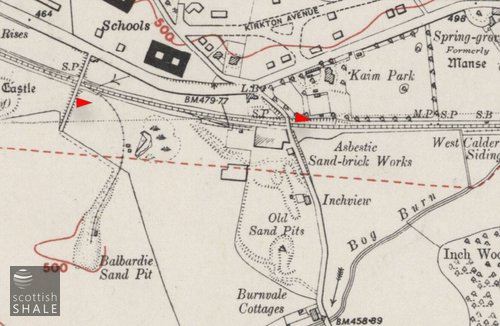 Stanley and many of his social circle also photographed trains. Evidence suggests that he embarked on a railway holiday to Scotland during the summer of 1939, photographing many steam trains in action throughout the scenic Highlands and North East, but also taking a handful of photos in the Bathgate area.
Our photographs are taken from the trackside to the east of Bathgate station. It might be imagined that Stanley walked from the station, past the locomotive sheds and along Edinburgh road, crossing the track on the first overbridge; a minor road leading to Balbardie sand pit. The photograph taken looking east from this point shows the siding that served the sand pit, and beyond this the buildings of the former Asbestic sand brick works, now site of Guildehaugh depot. To the north of the line, the Kaim Park hotel can be glimpsed through the trees, and the slab side of St Mary's School (which must have been a great place from which to gaze out and spot trains)
The double-headed train suggests this might have been a special excursion. Glen class No 9504, "Glen Alladale" pilots Superheated Scott No 9363. "Hal o' the Wynd" (this class carried some wonderful names from Walter Scott novels). The former North British Railway locos are hauling more modern LNER coaches.
The second photograph shows No. 4682, Class K2 "Loch Lochy" and its train in a featureless cutting, identified only as being in Bathgate. It seems likely that this was the view looking east from near the Blackburn Road bridge, in which case the land to the right of the picture is now occupied by Tesco's Bathgate store.
When the Bathgate railway lost its passenger service in 1956, few would have thought that sixty years later, the line would be carrying more passengers than ever before in its history. This triumph over the demon bus and the selfish car will doubtless have made Stanley smile.
Above left: The probable locations of the two (top) photographs on 6" OS map c.1938. Courtesy National Library of Scotland.