Photo - Suited Gentleman Sitting on a Verge
code: LVSAV1992.019.114
Collection code:
LVSAV1992.019
Description
B&W celluloid slide negative showing a suited gentleman sitting on a verge.
Gentleman is the same as in LVSAV1992.019.133
One of a collection of 215 glass slide and celluloid negatives showing family groups and local scenes. They feature members of the Whyte family and are thought to have been taken mainly in the Blackburn - Seafield area.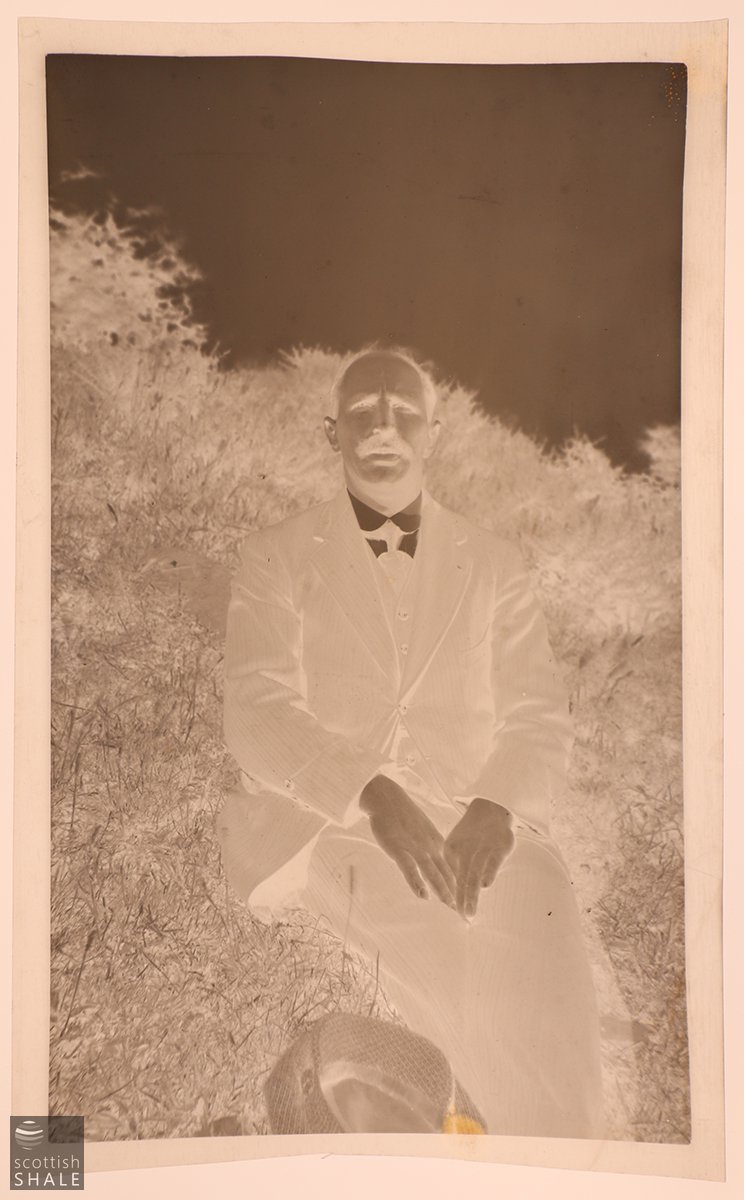 Related records
| Title | Collection Code | Collection Code Part |
| --- | --- | --- |
| Photo - group of adults and children outdoors | LVSAV1992.019 | .001 |
| Photo - two women with bing in the background | LVSAV1992.019 | .002 |
| Photo - Morven villa, Seafield | LVSAV1992.019 | .003 |
| Photo - outdoor family portrait | LVSAV1992.019 | .004 |
| Photo - outdoor summer portrait | LVSAV1992.019 | .005 |
| Photo - woman standing by the roadside | LVSAV1992.019 | .006 |
| Photo - man and bicycle in country setting. | LVSAV1992.019 | .007 |
| Photo - a girl in a black dress posed outdoors | LVSAV1992.019 | .008 |
| Photo - resting by the hedge | LVSAV1992.019 | .009 |
| Photo - single storey buildings at an unknown location | LVSAV1992.019 | .010 |
| Photo - father, mother and daughter outdoors | LVSAV1992.019 | .011 |
| Photo - seated woman holding a baby girl | LVSAV1992.019 | .012 |
| Photo - Girl Dressed in White | LVSAV1992.019 | .013 |
| Photo - group seated outdoors | LVSAV1992.019 | .014 |
| Photo - stooking sheaves of oats | LVSAV1992.019 | .015 |
| Photo - two men in a bush | LVSAV1992.019 | .016 |
| Photo -group at entrance to Westwood House | LVSAV1992.019 | .017 |
| Photo - family group in front of a stone building | LVSAV1992.019 | .018 |
| Photo - family group in a field | LVSAV1992.019 | .019 |
| Photo - women and children | LVSAV1992.019 | .020 |
| Photo - Couple under Cane Arch outside Cottage | LVSAV1992.019 | .021 |
| Photo - Group of People having a Picnic in a Harvest Field | LVSAV1992.019 | .022 |
| Photo - Steam Roller at Whitburn Railway Station | LVSAV1992.019 | .023 |
| Photo - Children in a Field | LVSAV1992.019 | .024 |
| Photo - Boy on Tricycle outdoors | LVSAV1992.019 | .025 |
| Photo - Steam Lorry at Whitburn Railway Station | LVSAV1992.019 | .026 |
| Photo - Family of Four outdoors | LVSAV1992.019 | .027 |
| Photo - Little Girl with Tricycle outside | LVSAV1992.019 | .028 |
| Photo - Rows of Cottages in Woodland | LVSAV1992.019 | .029 |
| Photo - Mother and Child | LVSAV1992.019 | .030 |
| Photo - Young man in Field | LVSAV1992.019 | .031 |
| Photo - Young baby in pram outdoors | LVSAV1992.019 | .032 |
| Photo - Man on Motorcycle with Sidecar | LVSAV1992.019 | .033 |
| Photo - Group of Schoolboys Outdoors | LVSAV1992.019 | .034 |
| Photo - Woman and Baby outside Cottage | LVSAV1992.019 | .035 |
| Photo - Parents and Child with Toy Car | LVSAV1992.019 | .036 |
| Photo - Young Girl in Garden | LVSAV1992.019 | .037 |
| Photo - Thatched Toll House with Man and Bike | LVSAV1992.019 | .038 |
| Photo - Woman and Baby outdoors | LVSAV1992.019 | .039 |
| Photo - Two women standing with flowers | LVSAV1992.019 | .040 |
| Photo - Three Children in White | LVSAV1992.019 | .041 |
| Photo - Family Group in front of House | LVSAV1992.019 | .042 |
| Photo - Husband and Wife in Garden | LVSAV1992.019 | .043 |
| Photo - Man in Suit outdoors | LVSAV1992.019 | .044 |
| Photo - Mother and Sons outdoors | LVSAV1992.019 | .045 |
| Photo - Family Group | LVSAV1992.019 | .046 |
| Photo - Young woman in pearls outdoors | LVSAV1992.019 | .047 |
| Photo - Young Woman and Child outside Cottage | LVSAV1992.019 | .048 |
| Photo - Man and Three Woman outdoors | LVSAV1992.019 | .049 |
| Photo - Mother and Son outdoors | LVSAV1992.019 | .050 |
| Photo - Cottage with Man Outside | LVSAV1992.019 | .051 |
| Photo - Two Girls outdoors | LVSAV1992.019 | .052 |
| Photo - Tarbrax No. 4 Pit | LVSAV1992.019 | .052a |
| Photo - Smiling Young Man outdoors | LVSAV1992.019 | .053 |
| Photo - Man in Suit outdoors | LVSAV1992.019 | .054 |
| Photo - Girl standing outside with Stick | LVSAV1992.019 | .055 |
| Photo - Men in Boiler Suits | LVSAV1992.019 | .056 |
| Photo - Man in Striped Jumper; Outdoors | LVSAV1992.019 | .057 |
| Photo - House Interior | LVSAV1992.019 | .058 |
| Photo - Interior view of a Cottage with Sideboard and Ornaments | LVSAV1992.019 | .059 |
| Photo - Family Group | LVSAV1992.019 | .060 |
| Photo - Two women in Garden | LVSAV1992.019 | .061 |
| Photo - Woman Outside House | LVSAV1992.019 | .062 |
| Photo - Smartly Dressed Boy outdoors | LVSAV1992.019 | .063 |
| Photo - Young Girl Holding Flowers | LVSAV1992.019 | .064 |
| Photo - Woman in Plaid Skirt | LVSAV1992.019 | .065 |
| Photo - Triplets | LVSAV1992.019 | .066 |
| Photo - Cottage, probably 43 East Main St. Blackburn | LVSAV1992.019 | .067 |
| Photo - Lace Curtained Window | LVSAV1992.019 | .068 |
| Photo - Woman in Striped Shirt | LVSAV1992.019 | .069 |
| Photo - Husband and Wife | LVSAV1992.019 | .070 |
| Photo - Young Woman outside House | LVSAV1992.019 | .071 |
| Photo - Woman in Velvet Dress seated outdoors. | LVSAV1992.019 | .072 |
| Photo - Husband and wife | LVSAV1992.019 | .073 |
| Photo - Older Woman Standing Beside a Chair | LVSAV1992.019 | .074 |
| Photo - Woman in Plaid Skirt | LVSAV1992.019 | .075 |
| Photo - Young girl in White Dress and Gloves | LVSAV1992.019 | .076 |
| Photo - Young Girl Holding Flowers | LVSAV1992.019 | .077 |
| Photo - Baby in a pram outside cottage | LVSAV1992.019 | .078 |
| Photo - Two Suited Gentlemen | LVSAV1992.019 | .079 |
| Photo - Woman and Child outside their House | LVSAV1992.019 | .080 |
| Photo - Hat Wearing Trio | LVSAV1992.019 | .081 |
| Photo - House - perhaps 72 East Main St. Blackburn | LVSAV1992.019 | .082 |
| Photo - Young Man in a Suit | LVSAV1992.019 | .083 |
| Photo - Gentleman in a Suit holding Papers | LVSAV1992.019 | .084 |
| Photo - Group of people in a Harvest Field | LVSAV1992.019 | .085 |
| Photo - Couple on a Steel Bridge across a River | LVSAV1992.019 | .086 |
| Photo - Family Photo taken outside a Building | LVSAV1992.019 | .087 |
| Photo - Family Seated with Vans and Huts in the background | LVSAV1992.019 | .088 |
| Photo - Family in front of Vehicle | LVSAV1992.019 | .089 |
| Photo - Two Pipers outdoors | LVSAV1992.019 | .090 |
| Photo - Couple in front of Cottage | LVSAV1992.019 | .091 |
| Photo - Smartly Dressed Woman outdoors | LVSAV1992.019 | .092 |
| Photo - Woman in Velvet Dress seated outdoors. | LVSAV1992.019 | .093 |
| Photo - Westwood house | LVSAV1992.019 | .094 |
| Photo - Woman beside a Gate | LVSAV1992.019 | .095 |
| Photo - Family Group in front of a Wall | LVSAV1992.019 | .096 |
| Photo - Group of Children in front of a Wall | LVSAV1992.019 | .097 |
| Photo - Family Group with Row of Houses Behind | LVSAV1992.019 | .098 |
| Photo - Mother and Two Children outdoors | LVSAV1992.019 | .099 |
| Photo - Grandmother and Granddaughter Sitting on a Verge | LVSAV1992.019 | .100 |
| Photo - Cottage with Double Front Door | LVSAV1992.019 | .101 |
| Photo - Suited Gentleman outdoors | LVSAV1992.019 | .102 |
| Photo - Family Group in front of a Car | LVSAV1992.019 | .103 |
| Photo - Suited Gentleman outdoors | LVSAV1992.019 | .104 |
| Photo - Seated Woman in Vegetable Garden | LVSAV1992.019 | .105 |
| Photo - Family of Three Outside Cottage | LVSAV1992.019 | .106 |
| Photo - Woman in Long Velvet Dress | LVSAV1992.019 | .107 |
| Photo - Family Group in Garden | LVSAV1992.019 | .108 |
| Photo - Elderly Couple In Garden outside cottage | LVSAV1992.019 | .109 |
| Photo - Two Young Girls indoors | LVSAV1992.019 | .110 |
| Photo - Lady in Hat and Long Cardigan outdoors | LVSAV1992.019 | .111 |
| Photo - Woman in Black Velvet Dress outdoors | LVSAV1992.019 | .112 |
| Photo - Group of Children indoors | LVSAV1992.019 | .113 |
| Photo - Man with Motorbike | LVSAV1992.019 | .115 |
| Photo - Couple Wearing Long Coats and Hats outdoors | LVSAV1992.019 | .116 |
| Photo - Woman in Spotted Blouse outside a house | LVSAV1992.019 | .117 |
| Photo - Woman and Dog on steps of a substantial building | LVSAV1992.019 | .118 |
| Photo - Young Girl in Pleated Dress outdoors | LVSAV1992.019 | .119 |
| Photo - Father and Young Son outside cottage | LVSAV1992.019 | .120 |
| Photo - Family Group with Dog | LVSAV1992.019 | .121 |
| Photo - Cottage, perhaps 25 East Mains St. Blackburn | LVSAV1992.019 | .122 |
| Photo - Woman Holding Kitten standing outside a cottage. | LVSAV1992.019 | .123 |
| Photo - Three Children in White standing outdoors | LVSAV1992.019 | .124 |
| Photo - Family Group of Seven pictured outdoors | LVSAV1992.019 | .125 |
| Photo - Woman in White Blouse seated outside a house | LVSAV1992.019 | .126 |
| Photo - Woman in Striped Coat standing outside a cottage | LVSAV1992.019 | .127 |
| Photo - Woman in Lace Collared Dress | LVSAV1992.019 | .128 |
| Photo - Family Group of Five outdoors | LVSAV1992.019 | .129 |
| Photo - Suited Gentleman Holding Papers in a country lane | LVSAV1992.019 | .130 |
| Photo - Gentleman Seated Under Cane Arch at rear of cottage | LVSAV1992.019 | .131 |
| Photo - Family Group in Field | LVSAV1992.019 | .132 |
| Photo - Gentleman on Grass Verge | LVSAV1992.019 | .133 |
| Photo - Smoking Gentleman in House | LVSAV1992.019 | .134 |
| Photo - Children Outside | LVSAV1992.019 | .135 |
| Photo - Woman in Checkered Skirt | LVSAV1992.019 | .136 |
| Photo - Woman in Dark Coat and Skirt | LVSAV1992.019 | .137 |
| Photo - Three Children Outside | LVSAV1992.019 | .138 |
| Photo - Grandmother and Granddaughter outdoors | LVSAV1992.019 | .139 |
| Photo - Couple Standing in a Field | LVSAV1992.019 | .140 |
| Photo - Couple in Field | LVSAV1992.019 | .141 |
| Photo - Woman in Striped Jumper and Long Skirt outdoors | LVSAV1992.019 | .142 |
| Photo - Family Group indoors | LVSAV1992.019 | .143 |
| Photo - Lounging man with Cigarette outdoors | LVSAV1992.019 | .144 |
| Photo - Girl Dressed in White outdoors | LVSAV1992.019 | .145 |
| Photo - Grandparents and Granddaughter | LVSAV1992.019 | .146 |
| Photo - Two Suited Men in front of trees | LVSAV1992.019 | .147 |
| Photo - Double photograph of a lady and her husband in front of shed | LVSAV1992.019 | .148 |
| Photo - Group of Three Women in front of two storey farm house | LVSAV1992.019 | .149 |
| Photo - Bearded Gentleman with haystacks or ricks | LVSAV1992.019 | .150 |
| Photo - Two Men on Motorbike outside two storey farm building | LVSAV1992.019 | .151 |
| Photo - Family Group in a Car outside two storey farm building | LVSAV1992.019 | .152 |
| Photo - Group of Three Children in front of cottage | LVSAV1992.019 | .153 |
| Photo - Large Group Sitting on a Wall in a Village | LVSAV1992.019 | .154 |
| Photo - Mother and Baby outdoors | LVSAV1992.019 | .155 |
| Photo - Hat Wearing Trio | LVSAV1992.019 | .156 |
| Photo - Group of working men with large forks | LVSAV1992.019 | .157 |
| Photo - Three Women in front of two storey farm building | LVSAV1992.019 | .158 |
| Photo - Interior of cottage with family group having tea | LVSAV1992.019 | .160 |
| Photo - Arches and gala day crowd - Newlands day, Bathgate? | LVSAV1992.019 | .162 |
| Photo - Woman with Motorbike | LVSAV1992.019 | .163 |
| Photo - Group of People some in fancy dress for gala day? | LVSAV1992.019 | .164 |
| Photo - Two Young Children in Knitted Dresses | LVSAV1992.019 | .165 |
| Photo - Two Boys Wearing Shorts and Jumpers | LVSAV1992.019 | .166 |
| Photo - mantlepiece and range inside a dwelling | LVSAV1992.019 | .167 |
| Photo - child posing next to a Chesterfield chair | LVSAV1992.019 | .168 |
| Photo - framed pictures within a dwelling with picture of Howden Toll | LVSAV1992.019 | .169 |
| Photo - figure at Hopefield bridge, Blackburn | LVSAV1992.019 | .170 |
| Photo - family group in graveyard | LVSAV1992.019 | .171 |
| Photo - mother and child | LVSAV1992.019 | .172 |
| Photo - family portrait, indoors | LVSAV1992.019 | .173 |
| Photo - gable end of a dwelling, perhaps 76 East Main St. Blackburn? | LVSAV1992.019 | .174 |
| Photo - King Charles Spaniel | LVSAV1992.019 | .175 |
| Photo - brass band on the Almond bridge, Blackburn | LVSAV1992.019 | .176 |
| Photo - King Charles Spaniel | LVSAV1992.019 | .177 |
| Photo - child in dungarees and cap | LVSAV1992.019 | .178 |
| Photo - family portrait outdoors | LVSAV1992.019 | .179 |
| Photo - family group portrait outdoors | LVSAV1992.019 | .180 |
| Photo - flowers on graves | LVSAV1992.019 | .181 |
| Photo - family portrait | LVSAV1992.019 | .182 |
| Photo - portrait of a woman outdoors | LVSAV1992.019 | .183 |
| Photo - schoolchild and nurse | LVSAV1992.019 | .184 |
| Photo - a seated man indoors | LVSAV1992.019 | .185 |
| Photo - man in a suit with pocket watch outdoors | LVSAV1992.019 | .186 |
| Photo - group of adults with children outside cottage | LVSAV1992.019 | .187 |
| Photo - outdoor family portrait with cottages | LVSAV1992.019 | .188 |
| Photo - child standing on a chair in a doorway | LVSAV1992.019 | .189 |
| Photo - woman outdoors | LVSAV1992.019 | .190 |
| Photo - lady in uniform inside a cottage | LVSAV1992.019 | .191 |
| Photo - family portrait outside the house | LVSAV1992.019 | .192 |
| Photo - woman stood outside | LVSAV1992.019 | .193 |
| Photo - father and son | LVSAV1992.019 | .194 |
| Photo - four men in suits outdoors | LVSAV1992.019 | .195 |
| Photo - Mid Briech Rows | LVSAV1992.019 | .196 |
| Photo - man standing at the side of a dirt road | LVSAV1992.019 | .197 |
| Photo - family group picture inside cottage | LVSAV1992.019 | .198 |
| Photo - Grocer's Shop and Off Licence probably at Blackburn coss | LVSAV1992.019 | .199 |
| Photo - couple in front of Hawthorn Villa, Seafield | LVSAV1992.019 | .200 |
| Photo - lady in the countryside | LVSAV1992.019 | .201 |
| Photo - Maggie - figure outdoors | LVSAV1992.019 | .202 |
| Photo - two women outdoors with telegraph pole | LVSAV1992.019 | .203 |
| Photo - figure at Hopefield bridge, Blackburn | LVSAV1992.019 | .204 |
| Photo - man in uniform | LVSAV1992.019 | .205 |
| Photo - soldier reading on a wooden chair indoors. | LVSAV1992.019 | .206 |
| Photo - soldier in uniform | LVSAV1992.019 | .207 |
| Photo - figure at Hopefield mill, Blackburn | LVSAV1992.019 | .208 |
| Photo - man standing against a wall | LVSAV1992.019 | .209 |
| Photo - a smoking gentleman | LVSAV1992.019 | .210 |
| Photo - figure in front of industrial buildings | LVSAV1992.019 | .211 |
| Photo - figure in military uniform outside cottages | LVSAV1992.019 | .212 |
| Photo - couple outside scullery of cottage | LVSAV1992.019 | .213 |
| Photo - figure at bowling green, perhaps Seafield | LVSAV1992.019 | .214 |
| Photo - couple in front of cottage | LVSAV1992.019 | .215 |