Henry Aitken
Date of birth:
15/06/1880
Date of death:
05/11/1956
Home address(es):
38 Shrine Place, Broxburn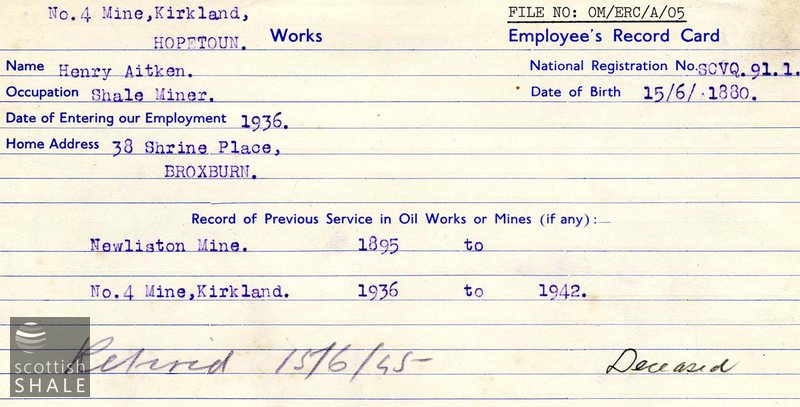 See full record, LVSAV2010.139.005
Newspaper References
SOLDIER DROWNED AT SEA
Mr and Mrs Henry Aitken, 38 Shrine Place, Broxburn, have been officially notified that their son, Sgt Henry Aitken, Black Watch, had been drowned in North Africa in July. Sergeant Henry Aitken, who is married - his wife and infant daughter reside at Southampton - joined the Highland Light Infantry eleven years ago. After seven years in the Army, he was placed on the reserve list. on the outbreak of war he was called up and was sent to France with the Black Watch. Following the Dunkirk evacuation he took his full part in the North African Campaign.
Midlothian Advertiser, 6 August 1943
DEATHS
AITKEN - At St. Michael's Hospital, on 5th November, 1965, Henry Aitken, aged 76 years, husband of the late Wilhelmina Marshall, 38 Shrine Place, Broxburn.
West Lothian Courier, 9 November 1956
ACKNOWLEDGEMENTS
The family of the late Henry AITKEN wish to thank all relatives, friends and neighbours for expressions of sympathy and floral tributes received in their recent sad bereavement. - 38 Shrine Place, Broxburn.
West Lothian Courier, 16 November 1956