John Peter Raeburn (1828-1872)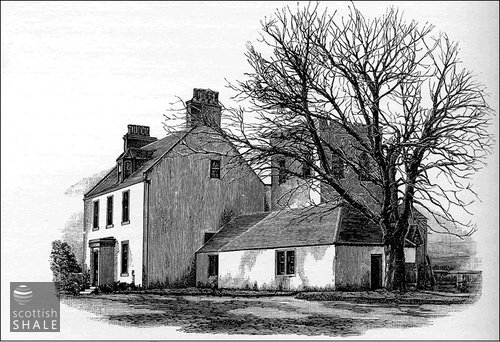 Business interests included:
John Peter Raeburn was owner of the Charlesfield Estate and took an active role in exploiting the mineral riches of his lands. His firm established the Grange Oil Works in about 1864, which were later developed by the Midlothian Mineral Oil Co. Ltd., of which J.P. Raeburn and his brother in law were major shareholders.
John Peter Raeburn was grandson of Sir Henry Raeburn, the distinguished portrait painter. J.P. Raeburn's father (also named Henry) married Charlotte White of Howden, raising their family at Howden House (55.892758, -3.517197). Henry Raeburn purchased the nearby Charlesfield estate in 1843, moving to Charlefield House (55.880411, -3.545719) in 1860, and dying there in 1863.
The 1851 and 1861 census both show John Peter Raeburn living at Howden House, with his father listed as head of the household. John Peter is described as "factor" in 1851 and "gentleman" in 1861. The 1871 census has John Peter Raeburn as head of the household at Charlesfield House, with his profession listed as "mineral oil manufacturer". His younger brother, James White Raeburn, was also resident at Charlesfield
A patent for improvements to oil production from mineral substances, taken out by J.P Raeburn in 1864, suggests that he had a substantial knowledge of the technology of oil production, and took an active role in the management of Grange Oil Works. A limited company the Midlothian Mineral Oil Co. Ltd. was launched in 1872 to acquire and develop the Grange Oil Works. The directors listed in the prospectus included John Peter Raeburn and William Patrick Andrew, who was married to John Peter Raeburn's sister Anne. John Peter Raeburn died unmarried at Charlefield house in 1872, and the Midlothian Mineral Oil Co. failed in c.1875.
it is interesting to note John Peter's younger brother James White Raeburn, married Katherine Bruce Fernie, daughter of oil works proprietor Ebeneezer Waugh Fernie, resident for a period at Almondell House, but also noted to have a residence at Darmstadt, Germany; in association with his manganese mining interests there.
Above right: Charlesfield House, from The History and Antiquities of the Parish of Midcalder.
Newspaper references
Patents recently applied for: March 2. - J.P. Raeburn, gentleman, Charlesfield --Improvements in the production of oil, oleaginous or spirituous and gaseous matters from coal and other mineral substances, and vegetable deposits.

The Glasgow Herald, 12th March 1864

.......

Deaths – At Charlesfield House, Mid-Calder, on the 24th inst., John Peter Raeburn, of Charlesfield

The Falkirk Herald, 28th December 1872

.......

Marriages - July 28. at St John's Church. Edinburgh, Logan White Raeburn Esq., of Charlesfield, Mid-Lothian, to Katharine Bruce, only daughter of the late E. W. Fernie, Esq., formerly of Highfield, Herts.

The Bath Chronicle, 13th August 1874

.......

Marriages -Bruce-Raeburn. —At the British Legation, Darmstadt, on the 3rd inst., by the Rev. A. W. Sillitoe, chaplain to the Legation, the Hon. Frederick John Bruce, son of the late Earl of Elgin and Kincardine, to Katherine Bruce, daughter of the late E. W. Fernie, formerly of Highfield, Great Berkhampstead, and widow of the late Logan W. Raeburn, Esq., of Charlesfield, Midlothian

The Bucks Herald, 14th June 1879

.......

Mr (Henry) Raeburn was the only surviving son of Sir Henry Raeburn, the distinguished portrait painter of the early part of the present century. Having married Charlotte, daughter and eventual heiress of Mrs Elizabeth White of Howden, he ultimately succeeded his wife to that property, which continued to be his residence for many years after his acquisition of Charlesfield (in 1846). He removed thither in the year 1860 and devoted much care and large sums of money to the improvement of the estate, until his death, which occurred at Charlesfield House, 23rd July 1863. His family consisted of three sons and four daughters, namely Henry, resident in New Zealand, who died without descendants; John Peter of Charlesfield, who died unmarried, 1872; Logan White Raeburn of Charlesfield, married Katherine Bruce Fernie of Dauntsey House, Wilts, but died also without surviving isssue in 1877. Anne of Charlesfield married William Patrick Andrew, a medical officer in the service of the East India Company, who received a knighthood and the decoration of Companion of the Indian Empire, 20th January 1882, and died 1887 leaving decendants; Miss Charlotte Raeburn; Elizabeth Hay Raeburn, married John Fraser, M.D. surgeon, Hon. East India Company; and Miss Caroline Raeburn. Lady Andrew of Charlesfield died at Hastings, 24th July 1893.

From The History and Antiquities of the Parish of Midcalder. Hardy Bertram McCall, 1894

---