Robert Crichton (c.1882-1966)
Job title(s):
General Mining manager, James Ross & Co.
Managing Director, James Ross & Co
General Mining manager, Scottish Oils Ltd.
General Manager, Scottish Oils Ltd.
Managing Director, Scottish Oils Ltd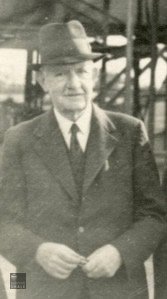 Robert Crichton, a former mining engineer, became the first General Mining Manager of the newly formed Scottish Oils Ltd in 1919. He later became General Manager and a member of the Board before being appointed Managing Director in 1941, a position he retained until his retirement in 1954.
In addition to his 58 years of service in the shale oil industry, Robert Crichton was actively involved with the community in which he lived. He was appointed as Convener of West Lothian County Council in 1935 and received the CBE in the Queen's New Year Honours List in 1955 for his work with the County Council and the shale oil industry. He also served as Chairman of the Board at Bangour General Hospital until 1961 and, following his death in 1966, a new lighting system was installed at St Michael's Parish Church, Linlithgow in his memory in 1967.
Obituary
DEATH OF FORMER CONVENER

Robert Crichton, J.P., C.B.E.

With the death late on Wednesday of Mr Robert Crichton. J.P., C.B.E., D.L.' at his home, Castlepark. Philpstoun, Linlithgow, the county of West Lothian lost a man who was its leading industrialist and public figure for more than half a century. Mr Crichton will be best remembered for his close connection with and work for the Scottish Shale Oil industry into which he was born. His father was manager and a director of Jas. Ross & Co. Ltd.. Philpstoun. one of the pioneer oil companies which later merged into Scottish Oils, Ltd.

Educated at Linlithgow Academy and Heriot-Watt College, Edinburgh, he entered the oil industry straight from college and was to serve it for 58 years befor his reitral. As long ago as 1910 he was appointed General Mining Manager of Jas. Ross & Co.. and later he was managing director. With the formation of Scottish Oils. Ltd. he was immediately earmarked for a leading post in the new organisation and was managing director when be retired from the industry in 1954. He was also a director of Grangemouth Refinery and of British Hydro-Carbons Chemicals Ltd.. and also had wide interests in the fields of industry and technical education. He was for ten years a Governor of the Heriot-Watt College. Edinburgh, and received the Honorary Fellowship in 1952. also a Fellow of the British Institute of Petroleum and first chairman of the Scottish branch of the institute, a former chairman of the Institute of Mining Engineers and also a former chairman of the Institute of Mining Electrical and Mechanical Engineers. His record of public service was extensive and remarkable and he was for 30 years a member of West Lothian County Council, for 10 years of which he was County Convener. With the introduction of the National Health Service in 1947. he became the first chairman of the West Lothian (Bangour) Hospitals Board of Management and held the post until a few years ago

Mr Crichton was indeed the Father of the Oil Industry in the Lothians and throughout its many difficulties and vicissitudes he never lost faith in it. Indeed it is true to say that but for his unflagging interest and enthusiasm the industry would it would have been wound-up long before it was in 1962. He was a man of great faith and complete integrity, a kindly man and a generous man. Occupying a post of high responsibility and trust, he believed that it was his duty to look after the welfare of all those under him, including their families. In times of hardship, bereavement. etc.. many a family had reason to bless his name and these things he did in complete secrecy seeking no publicity or credit. Under his direction Scottish Oils Ltd. set an example to the rest of Scotland in the field of social welfare for workers. In politics he was a Conservative and perhaps the greatest compliment ever paid to him was by a Labour member of the Labour-controlled county council who described him in all seriousness as "the greatest Socialist of us all." For his services to industry and the country Mr Crichton was created a C.B.E. in 1952. Predeceased by his wife he is survived by one son and two daughters.

West Lothian Courier 18th March 1966
References
Mr Robert Crichton, J.P., Castlepark, chairman of the West Lothian National Service Committee, speaking at a meeting of the Philpstoun Recreation Clubs, in the Institute, made an appeal for volunteers in the district for the National Service scheme. He said that he was willing to give anyone advice about any particular branch of National Service, and he had made arrangements for a series of anti-gas lectures and sick nursing lectures to be given in the village to women every week.

Scotsman, 17th February 1939

.......

The Chairman said that, as members of the Board were already aware, Mr Crichton had expressed his desire to retire from the Company's service at the end of the month, and this would be the last Board meeting that he would be attending. His retirement would mark the completion of nearly 58 years' association with the Scottish Shale industry of which he had unrivalled knowledge and experience. Trained as a mining engineer, he was appointed General Mining Manager of the old Scottish Oils Limited on its formation in 1919, later becoming General Manager and a member of the Board, by whom he was appointed Managing Director in 1941.

During his service as Managing Director, that Company had experienced some difficult times and it was in large measure due to Mr Crichton's initiative and to the high esteem in which he was held by both management and workers, that it had been possible to surmount some of the major difficulties. No tribute would be adequate that did not stress Mr Crichton's personal interest in the welfare of all who served the Company in whatever capacity. It was the earnest hope of all of them that Mr Crichton and Mrs Crichton would enjoy many years of health and happiness following his retirement. Mr Crichton thanked the members of the Board for their kind tribute and for their good wishes extended to Mrs Crichton and himself.

Scottish Oils Ltd, Minutes of the Board Meeting held on Thursday, 11th March, 1954

.......

Crichton's retirement. Falkirk Herald, 27th March, 1954

.......

They used to say that old Mr Crichton, who was the Managing Director, knew every workman in the works, he'd call them by their first name, he was first on the doorstep if there was something wrong with the family, the old paternal type.......

JS, Housewife, Broxburn