Robert M. Jamieson
Date of death:
24/12/1954
Westwood pit accident books record the following references:
13-10-1952, accident to Robert Jamieson, Canvasman, of 92 Oakbank, Mid Calder.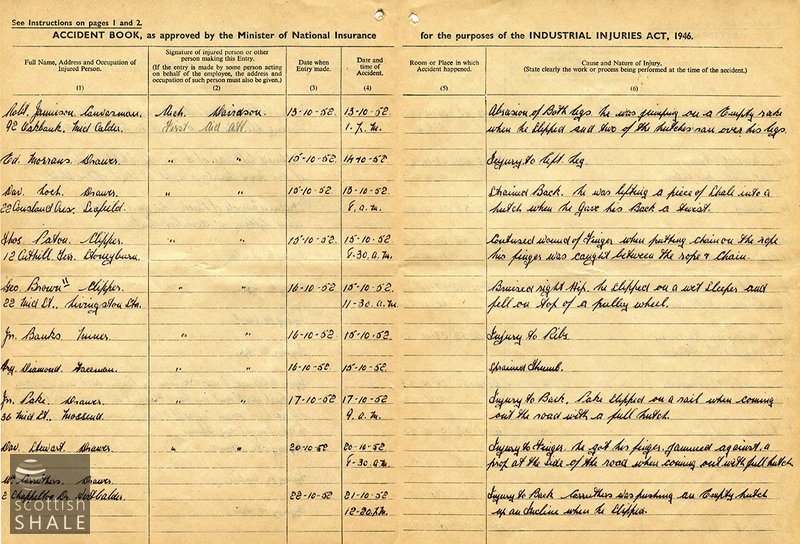 Newspaper References
ACKNOWLEDGEMENTS
Mr and Mrs ROBERT M. JAMIESON and family desire to thank the Doctors, Matron and Staff of Drumshoreland Hospital, also patients who were in the hospital during their daughters stay there. Management and Staff of Binns, Princes Street, Edinburgh, and neighbours and friends for their kind expressions of sympathy and floral tributes received in their recent sad bereavement; and S.C.W.S. F.U. Dept, for efficent funeral arrangements. - 28 Calderhall Crescent, East Calder.
West Lothian Courier, 29 December 1950
OAKBANK
OVER 50 YEARS A MINER
After over half-a-century's work in the shale-mines, Mr Robt. M. Jamieson, 94 Oakbank has retired. Sixty-seven years of age Mr Jamieson, except for a short spell in the U.S.A. and service during the 1914-1918 war, since he left school at the age of 14 has been employed in the shale mines in the Calders. In his youth "Bobby", as he was best known, was a well-known junior football player and after his playing days were over he for many years officiated as a referee in the junior game. A keen disciple of the National Bard he has held the office of President of the Oakbank Mossgiel Burns Club for over 20 years. We Wish Mr Jamieson many years of healthy, happy leisure.
West Lothian Courier, 1 May 1953
OAKBANK
OBITUARY
The Death occurred on Friday, after a short illness, of a leading personality in Oakbank and the Calders. Mr Robert M. Jamieson, whose home was at 92 Oakbank. Sixty-seven years of age. Bobby, who was born at Newcraighall, came to the village with his parents in his childhood. A shale miner, he retired from the employ of Scottish Oils Ltd., just over a year ago, after almost half a century's service. Before the first world war during which he won the Military Medal while serving with the R.A.M.C., Bobby was well known as a juvenile, and later junior, footballer, and when his playing days were over he turned his attention to refereeing, being for many years one of the most efficient and popular officials in the East of Scotland. During the last war Mr Jamieson held the office of Commandant in the C.D. First Aid Post at East Calder, and at the time of his death held a similar office in the Mid Calder District Section of the St Andrew's Ambulance Corps. In Oakbank he was a leading figure in the community life of the village, and for the past 26 years had acted as president of Mossgiel Burns Club. A year ago he was honoured by that body on attaining 25 years' service in that capacity, and was this year re-elected as president. A keen Trade unionist, he was for many years a member of the committee of Oakbank Branch of the Shaleminers' Union and served for several years as a member of Westwood Pit Production Committee. During the time of the old Parish Council deceased represented Oakbank Ward on that body. He is survived by his wife, a son and a daughter, for whom much sympathy is felt locally.
West Lothian Courier, 1 October 1954
IN MEMORIAM
JAMIESON - In loving memory of my dear husband, Robert M. Jamieson, died 24th Sept., 1954; also my dear daughter, Margaret, died 18th December, 1950, and my dear son Bobby, died 11th Sept., 1951.
Short and sudden was the call
Of them, so dearly loved by all,
But no length of time will ever dim,
The happy memories we have of them.
-Inserted by his loving wife and Sabina, 92 Oakbank, Mid Calder.
Three precious ones from us have gone,
The voiced we loved are still,
Three places are vacant in our home,
Thar no one can ever fill.
-Jimmy, Madge and grandchildren, Langton Farm, East Calder
West Lothian Courier, 23 September 1955
IN MEMORIAM
JAMIESON - In loving memory of my dear husband, Robert M. Jamieson, who died 24th September, 1954; also Bobby, who died 11th September, 1951, and Margaret, who died 18th December, 1950.
As they rest in peaceful sleep,
Their memory we shall always keep.
-Mum and Sabina, 92 Oakbank, Mid Calder.
We think of them in silence,
We make no outward show,
But what it meant to lose them
No one will ever know.
-Madge, Jimmie and bairns, Langton Farm Cottages, East Calder.
West Lothian Courier, 21 September 1956
DEATHS
JAMIESON - At E.R.I., on 6th December, 1958, Sabina Davidson, aged 57 years, wife of the late Robert M. Jamieson, 92 Oakbank, Mid Calder.
West Lothian Courier, 12 December 1958
OBITUARY
One of the village's best known and highly esteemed residenters (sic) passed away in an Edinburgh hospital on Sunday last. She was Mrs Sabina Jamieson, widow of Mr Robert M. Jamieson, who died a few years ago. A quiet neighbourly body, Mrs Jamieson was an original member of the local W.R.I., of which organisation she was a committee member for many years. She was also a keen member of the Mossgiel Burns Club, an an (sic) ardent worker in the Kirknewton Church Woman's Guild. Mrs Jamieson who was a native of Broxburn is survived by a son and daughter.
West Lothian Courier, 12 December 1958