Walter Linn
Alternative names:
Wattie
Date of birth:
29/09/1887
Home address(es):
East Burnside, Broxburn
7 Westhall Road, Broxburn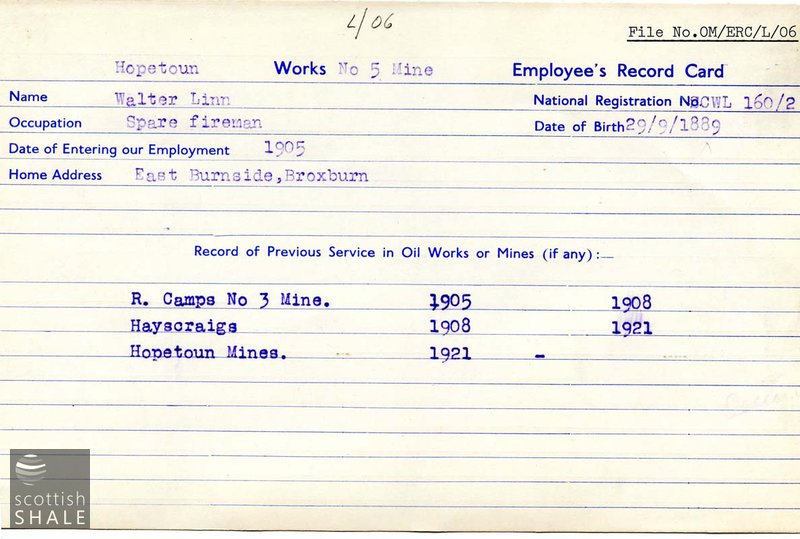 See full record, LVSAV2010.139.184
Should be noted that his year of birth is incorrect.
Suffered an accident on 31st May 1928, while employed as a pit roadsman at Hopetoun No.35 pit
See full record: 215664 page 89
Newspaper References
PRESENTATIONS
On the occasion of his leaving Broxburn to proceed to Canada, Mr Walter Linn was met by his fellow-bandsmen of Dr Kelso's Lothian Pipers in the Buchan Arms Hall, and presented with a gold-mounted guard and a gold badge, suitably inscribed. Friends at Broxburn Hall Farm also presnted him with a handsome dressing-case and an inscribed gold badge.
Linlithgowshire Gazette, 13 May 1910
MINE ACCIDENT
A miner, named Richard McMullan, residing at East Main Street, Broxburn, sustained injuries to his head, face, and lower limbs, through being partially buried by a fall of material in a "stooping" place in No. 35 Mine. The accident occurred towards the close of the shift, and his drawer had left for the surface. he was dug out by a man named Walter Linn, residing at East Burnside.
West Lothian Courier, 28 May 1926
ACCIDENT TO MINER
On Thursday of last week Mr Walter Linn, East Burnside, whilst at work at No. 35 Mine, was badly hurt through a fall from the roof. He was taken to Edinburgh Royal Infirmary suffering from a double fracture to the leg, fractured ribs, and painful face injuries.
Linlithgowshire Gazette, 8 June 1928
OBITUARY
The village learned with regret of the passing on Monday of one of its best-known members, Mr Walter Linn. He died at Bangour Hospital, to which he had been admitted the previous day. His home address was 7 Westhall Road. Mr Linn knew as much about old Broxburn and its personalities and worthies as anybody. Apart from some three years in Canada at a time prior to the Great War, he spent all of his 78 years in the place. He was the first man to return from Canada on a free pass issued by the Pacific Railway Company. The pass was given [to] him for services rendered. Mainly, Mr Linn's working life was spent with the Scottish Oils, Ltd. He was a foreman at Roman Camp Works, from where he retired some eight years ago. His great hobby was gardening. Of cheery disposition and with knowledge of a host of subjects, "Wattie" will be greatly missed by his many friends who, until a week ago, were enjoying his company. Predeceased by his wife six years ago, he is survived by a son and daughter.
West Lothian Courier, 6 July 1965