James Fairley
Date of birth:
07/12/1890
Date of death:
06/01/1947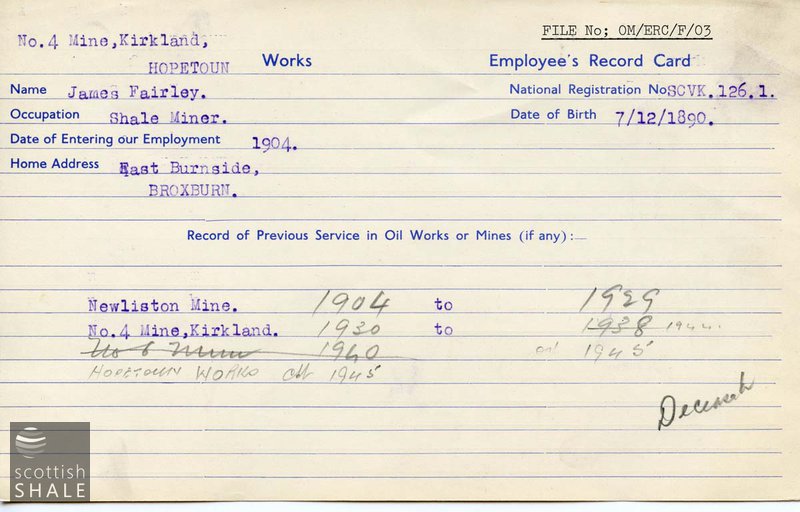 See full record, LVSAV2010.139.106
Newspaper References
UNDER THE FATAL ACCIDENTS INQUIRY (SCOTLAND) ACT, 1895, and THE FATAL ACCIDENTS AND SUDDEN DEATHS INQUIRY (SCOTLAND) ACT, 1906, and THE ADMINISTRATION OF JUSTICE (EMERGERNCY PROVISIONS) (SCOTLAND) ACT, 1939.
The SHERIFF of THE LOTHIANS AND PEEBLES will hold a PUBLIC INQUIRY within the SHERIFF COURT HOUSE, LINLITHGOW, on TUESDAY the Eighteenth day of February, 1947, at eleven o'clock forenoon, in regard to the Death of (1) JAMES FIARLEY, Shale miner, East Burnside, Broxburn...
Linlithgowshire Gazette, 14 February 1947
FELL DOWN PIT SHIFT
Inquiry Into Broxburn Miner's Death
An inquiry was held by Sheriff Macgregor, K.C., in Linlithgow Sheriff court on Tuesday, into the death of James Fairley, miner, East Burnside, Broxburn, who fell out of the pit cage when descending the shaft out of Hopetoun No. 35 Mine, Trinlaymire, Threemiletown, on 6th January, and was killed.
Alex. M'Queen, 33 Preston Road, Linlithgow, wo was with two other men in the cage with Fairley at the time, said that everything was in order and the decent was quite normal until they were about midway down. Fairley and he were standing back to back, and at this point he felt something touch the back of his leg, and on turning round he saw Fairley fall between the cage and the side of the shaft. There was no means of stopping the cage, but they kept shouting to the bottomer. When the cage reached the bottom, he felt it rest on the body of Fairley, and on the cage being raised, Fairley was found lying dead...
Sheriff Macgregor returned a formal verdict in accordance with the evidence.
Linlithgowshire Gazette, 21 February 1947