Alexander Lightbody
Date of birth:
18/11/1895
Date of death:
28/06/1967
Home address(es):
99 Greendykes Road, Broxburn,
4 Aitken Orr Drive, Broxburn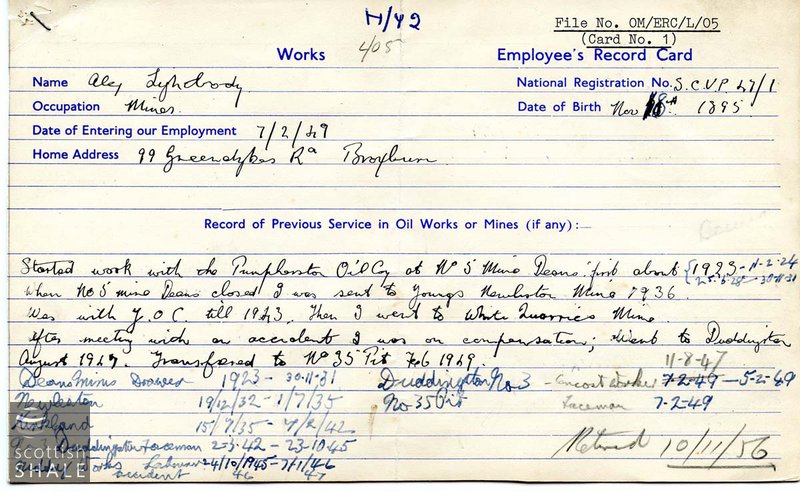 See full record, LVSAV2010.139.182
Newspaper References
DEATHS
LIGHTBODY - Suddenly on 28th June, 1967, Alexander Lightbody, aged 71 years, beloved husband of Jeannie Carson, 4 Aitken Orr Dr., Broxburn.
West Lothian Courier, 30 June 1967
LAY PREACHER - Mr Alexander Lighbody, the well known lay preachers at Broxburn Apostolic Church and also at numerous churches throughout central Scotland and even further afield, died very suddenly last week. On his was to attend the funeral of a cousin, he collapsed and died in Broxburn Main Street. Aged 71 years and a retired shale-worker, he resided at 4 Aitken Orr Drive, Broxburn. For many years he lived at Greendykes Road whose residents held him in high regard and many were wont to seek his guidance and advice. Blackridge-born he was wounded in the first world war. in the second war, he was prominent in the Home Guard, holding the rank of Lieutenant. In recent years, he had worked as an attendant at Buchan Park Bowling Club. Throughout the years his man outside interest was in lay-preaching. The many who heard him will remember him as a fine preacher and a man who set a high personal example. He is survived by his wife and family of four sons.
West Lothian Courier, 7 July 1967
DEATHS
LIGHTBODY - At Bangour Hospital, on 18th July, 1969, Jane Carson, aged 76 years, wife of the late Alexander Lightbody. - 4 Aitken Orr Drive, Broxburn.
West Lothian Courier, 25 July 1969